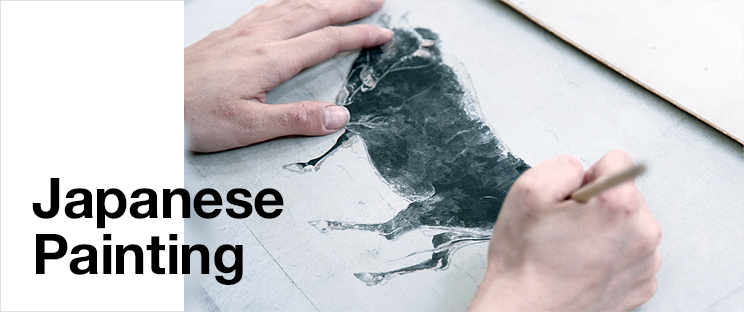 Outline
Japanese painting (nihonga) is heir to the long tradition of Oriental painting, while continually assimilating influences from foreign cultures. The unique design concepts and fine materials and techniques characteristic of Japanese painting have earned it a special place in world art.
The objective of the Japanese Painting course is to teach students the specialized techniques forming the basis of Japanese painting and to foster in them individual creativity as they learn to express the unique qualities of Japanese painting, transmitted through the ages as a reflection of Japanese culture, in contemporary forms. In the four-year undergraduate program, students study all aspects of Japanese painting, rendering as subjects flora, fauna, landscapes, and people. They also devote significant time to drawing the human figure as a fundamental form of representation to cultivate depictive strengths.
In the process of learning from nature, students gradually develop the ability to compose large paintings. While the many manual techniques and processes required to use traditional materials such as sumi, natural pigments, and gold and silver leaf may appear to run counter to the currents of the times, students come to perceive their significance as problems integral to creative expression.
Oriental painting values not realism, but rather the concept of artistic impression (sha-i), the essence of which lies in nature itself. By drawing from nature students hone their powers of observation, the key to understanding the richness and depth of Oriental painting.
The study of classical paintings also plays an important role in their studies. Students learn the true spirit of Oriental art by producing copies of Buddhist paintings, yamato-e, suiboku-ga and illustrated scrolls, to link this heritage to the present age.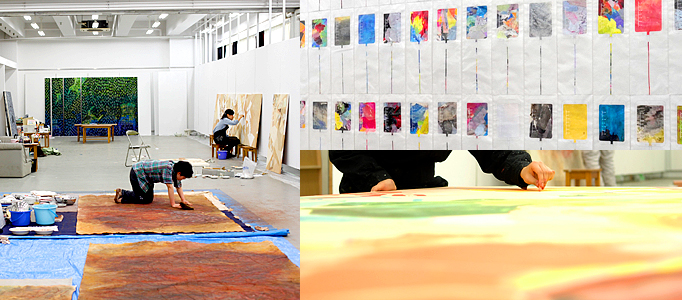 Students' Works
For more information about each work, please click on the image. (You will be forwarded to the Japanese site.)