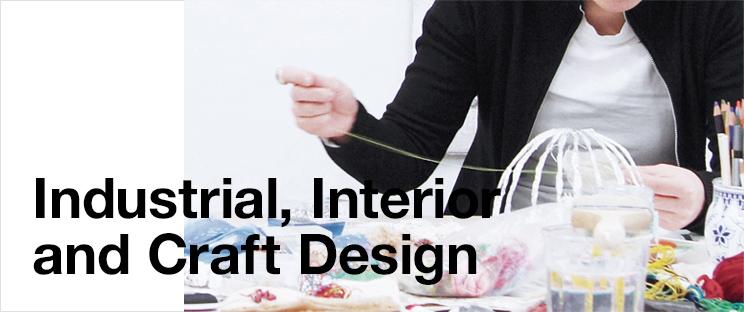 Outline
Research and production that connects art and design and creates design for tomorrow that works for both people and things
Our lives are surrounded by things, with which we live, work and play. All these things (except those created by nature) were "designed" and made by human beings, be it consciously or spontaneously, by hand or machine. The Department of Industrial, Interior and Craft Design offers in-depth study into the design of all the objects that shape our everyday environments, and by scrutinizing relationships between people and things, explores new visions for living. The Department offers three courses: Craft Design, Industrial Design and Interior Design.
The Craft Design course focuses on objects and implements related to food, clothing and shelter. It is subdivided by material into five distinct disciplines: ceramics, metalwork, textiles, glassmaking and woodwork. Bearing mass production in mind, aesthetic image, and the nature of materials through the sense of touch, the course seeks to fuse art and living, realms that in Japan have been traditionally integrated.
The Industrial Design course focuses on the development of a wide range of industrial products from household appliances to motor vehicles and railway carriages. The course investigates ways of interaction between industrial products and human beings, questions whether there should be more such interaction and suggests ways of building better living environments.
The Interior Design course focuses on both living and commercial spaces, the elements including furniture and lighting that form them, and defining and creating better, more enriching human environments.
The Industrial and Interior Design courses involve designing the details of our lives, including universal design integral to community living, and addressing environmental and resource issues. The courses are a venue for nurturing the broad knowledge and awareness of different issues required to apply an acute sensibility to building better relationships between people and objects and people and living spaces, and create the design of tomorrow while responding to the constantly changing needs of society.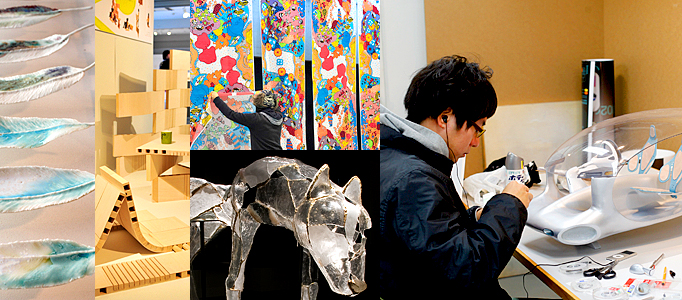 Students' Works
For more information about each work, please click on the image. (You will be forwarded to the Japanese site.)