MEXT Scholarship (Research Student)
The Ministry of Education, Culture, Sports, Science, and Technology (MEXT) offers scholarships for foreign students who wish to study at Japanese universities as research students under the Japanese Government (MEXT) Scholarship Program. This scholarship enables recipients to study as research students at Japanese universities for 2 years.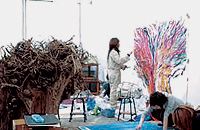 Application to Musashino Art University as a MEXT Scholarship Recipient
You are eligible to apply to our university as a research student under the MEXT scholarship program after you pass the preliminary selection of the MEXT scholarship held by your nearest Japanese Embassy/Consulate.
Application for a letter of Acceptance
If you have passed the preliminary selection and are interested in studying at MAU, please send the following documents to apply for a letter of Acceptance by mail or by e-mail by Fri. August 25, 2023 (Japan time);
1) Copy of all application documents submitted to the Japanese Embassy/Consulate that have been stamped by the Embassy/Consulate
(Application Form, Field of Study and Research Plan, Certified grade transcript for each academic year, Graduation certificate or degree certificate of the last university attended, Recommendation letter from the president/dean or the advisor of the last university attended or the university currently attending, etc.)
2) Copy of a passing Certificate of the First Screening issued by the Embassy/Consulate
3) Musashino Art University Application Form
4) Portfolio
5) Copy of a certificate of JLPT N2 or equivalent level
* Application documents or copies will not be returned once submitted.
Please send application by mail or by e-mail to
Musashino Art University
Center for International Relations
1-736, Ogawa-cho, Kodaira-shi, Tokyo , 187-8505 JAPAN
kokuhi@musabi.ac.jp
Screening Result
We will notify applicants of the screening result by mid September.
Frequently Asked Questions about MEXT Scholarship
Do I specify the name of the professor whom I would like to be supervised by at the time of application?
Yes, it is strongly advised that you write the name of the professor you would like to be supervised by.
The profile of our professors is available at
It is not necessary to contact your prospective supervisor beforehand.
Are the classes conducted in English?
All the classes at our university are conducted solely in Japanese; therefore, N2 level of JLPT is reguired.
How can I enroll in the Master's/Doctoral degree program at MAU as a regular student?
MAU first accepts MEXT scholarship students as non-regular students. If you wish to go on to the master's degree program as a MEXT scholarship student after your period as a non-regular student has ended, you must pass the entrance examination and obtain approval from the MEXT for an extension of the scholarship period. The same applies if you wish to continue on to a Doctoral degree program afterwards.