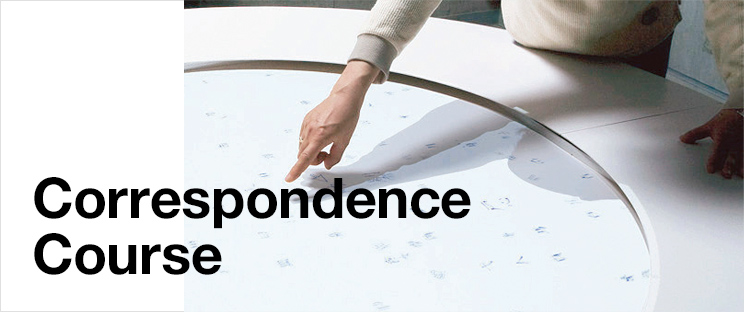 Outline
Art and design have now penetrated every corner of society, and play an indispensable role in enriching our day-to-day existence. At the same time, a new era in learning is upon us, in which people have access to a myriad of study opportunities unrestricted by time or location, and can continue to learn throughout their lives if they so desire. To cater to demand for more flexible learning, following a comprehensive restructuring of study options in an effort to become more accessible to the wider community and to individuals from all walks of life, and more responsive to social trends, in 2002 Musashino Art University began offering a four-year correspondence course in the College of Art and Design, graduating the first cohort of 198 students in March 2007.
Correspondence courses at MAU began in 1951 at the Musashino Art School, forerunner of the University, operating as a two-year course through the Musashino Junior College of Art from 1959, and the Junior College of Art and Design from 1988. Over this period over 40,000 students studied through the correspondence program, with around 7000 continuing on to graduation.
A Japanese pioneer of fine arts correspondence courses at the university level with over half a century of experience, MAU combines correspondence classes with face-to-face tuition (via year-round and regional schooling) to maximize learning outcomes, also taking advantage of the unlimited potential of e-learning via the internet. The many different opportunities for learning include weekend lectures at the MAU satellite campus in Shinjuku, located on the ninth floor of the Shinjuku Center Building.

Years 1 and 2 (Foundation program)
Students are not affiliated with any particular department or course, but select subjects freely from a wide range of fields to design their own personalized learning program.
Years 3 and 4 (Professional program)
The professional program consists of nine courses in four departments.
College of Art and Design, Correspondence Course departments
Department of Painting
Department of Industrial,Interior and Craft Design
Department of Arts Policy and Management
Department of Design Informatics
Note: Registration is limited to those residing in japan.