Alessandra Francesca Gaudio
Politecnico di MilanoAccepted: Department of Industrial, Interior and Craft DesignApril 2009 to July 2009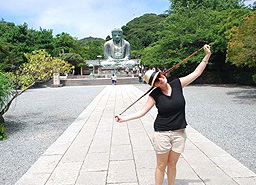 The exchange period I spent at Musabi was the best time of my life. I was dreaming about going to Japan and this was the right chance for me to get in touch with a different and charming culture and to learn new working methods.
I studied interior design there, and I could work with Japanese teachers and architects, discovering a new way of thinking about interior design. I attended three courses: textile design, interior design for eating spaces and kangu design (designing a small hut).
Textile design was very different from what we do in Italy, it was really fun and new for me. It's based on practical work and at the end there's great satisfaction in producing some unique textile items.
Eating space design was very useful because we had to conduct a research about food in Tokyo, what the Japanese eating culture is and where and how food is served, in order to design a restaurant in the city.
Kangu design was the most demanding course, because I think the theme was very Japanese (living in a very small space in the best way), and it was a great exercise for me. This project was really challenging also because we had to think about a knock-down system, to produce a transportable hut.
I found a lot of differences between Italian universities and Japanese universities, and I had a great time with my classmates. I also learnt a little bit of Japanese language, which was helpful during my stay in Japan and I took advantage of this exciting opportunity to travel around and visit some of the most incredible places which I've never been to before.
My semester in Tokyo changed my life, and I'm looking forward to going back there one day!
Fabio Villa
Politecnico di MilanoAccepted: Department of Industrial, Interior and Craft DesignApril 2009 to July 2009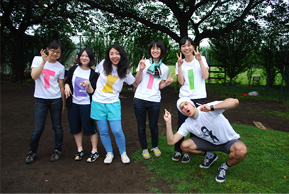 I consider being part of the exchange program at MUSASHINO ART UNIVERSITY to have been one of the best experiences I've ever had. Before leaving Italy I had some expectations, but when I come to Japan everything just went better and better.
I'm talking about what I gained in terms of personal growth, academic skills and interpersonal relationships. Being in a new place, sharing your personal ideas and points of view is always stimulating, especially if you are in a culture far from yours. In Musabi I had the possibility of tasting all these.
The campus is great, you feel the spirit of a place where people design, create and produce. The university life is a part of the academic programs: exhibitions, welcoming parties, softball tournaments and clubs are good opportunities for both leaning and socializing.
People in Musabi are amazing, always ready to help you; you feel at home, even if you are very far from there. Japanese hospitality is a value that everyone strongly feels and shows. Starting from the classmates, the teachers and the staff, I learnt a lot from everyone.
If I think of the academic aspects, I admit that having faced problems and themes from another prospective will help me a lot in my future career. Western architects are really interested in Japanese culture and lifestyle in their work. I left Tokyo with my head full of images, ideas and motivation.
Sandra Buhler
The Berlin University of the ArtsAccepted: Department of Imaging Arts and SciencesApril 2009 to July 2009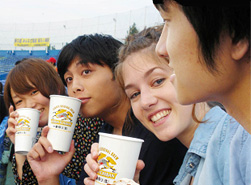 I had such a good time in Japan - so many interesting stories happened there and I met a lot of nice people!
Every day was very inspiring, full of new experiences, shifts and connections in your thoughts. Tokyo is very exciting and full of crazy corners.
I was an exchange student in the department of Imaging Art and Sciences and met a lot of good friends there. They introduced me to the Japanese culture and showed me a lot of cool places. I'm full of memories of great evenings together with my friends!
Musabi is organized very well. It was new for me to study in a campus, where all things are so close together and you meet the students everywhere. That was very nice and practical. Just some steps and you had the possibilities to work, have lunch, buy material, meet friends or spend time in the library. I never felt lost.
The lessons and projects were very interesting. The engagement from the teachers was very high, and at the end of the semester we showed our works at an exhibition. It was an intensive time and I could develop myself in new areas, like installation and gainer system and also in terms of cultural experience.
The life at MAU and in Japan was just great and exciting. I had a enjoyable time with the students here! I am grateful I got the chance to experience this! Thank you a lot for this great stay!
Sarah Vanhille
Ecole Nationale Superieure des Beaux-ArtsAccepted: Department of Imaging Arts and SciencesApril 2009 to July 2009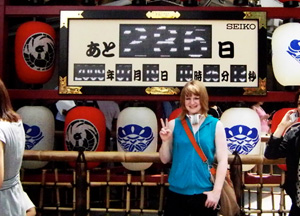 I will never forget these 5 months I spent in Japan from last spring to summer.
I went to Tokyo in the context of the exchange program between Beaux Arts and Musashino Art University.
I was really interested in several aspects of Japanese culture (pop culture, video games, dance, literature, painting…) and that's why I chose to go to Tokyo : I wanted to make my own film about some of these topics.
In Musabi, I was in the department of Imaging Arts and Sciences (Eizo). I attended the drama class with a group of 20 students.
I remember at first that my situation was complicated : I chose a course which consisted of writing a scenario, talking about it and finally making the movie in small groups, however I couldn't speak Japanese but would understand sometimes a few phrases. It was not only a matter of langage. We could reach each others by drawing, miming, sounds etc….
This experience was really wonderfull because we created another way of communication and it helped me to figure out and clarify my own ideas and themes I wanted to show in my own film. Most of the time, I was busy making our team film's project called « 砂鉄 (satetsu)
During April and May we had a lot dicussions together about the scenario and at the same time, it was a good occasion to learn and improve my Japanese.
Later we had to move around Tokyo to find different locations for the shoots.
With that project, I could understand many differents energies about the ways to create.
I devoted the rest of the week to writing and taking the shootings for my own movie project (Velvet pools) with my Japanese friends acting for me.
I remember that the Japanese lessons with Iwasaki sensei were very usefull to practice Japanese everyday with my friends.
Later, during the summer I had the chance to travel with my friends to Kyoto, Nara, Osaka and Hokkaido. I think this is really a chance to travel through Japan because you're able to see the difference of atmosphere. I think that I had a great chance to work on two different movie projects and it improved my comunnication within a team.
I think also that I found many answers to my personal interrogations through my own artistic work.
What I like in Japan: it's the fact that everything seems to float , we are never sure of anything. I could feel about that beautiful country and Japanese people that everything seems to be young and I remember when I spoke with my friends about their childhood that they were very melancholic. I remember their eyes turned toward the unknown.
In the future, I truly wish to come back to Japan to study again and have the opportunity to make some other movies and learn more and more about Japan and its society.
In Paris, it's been 5 months now that I take Japanese lessons and I also have the project to tempt the Japanese Ministry of Education scholarship maybe to come back again in 2011!