Margaux Lelièvre
École nationale supérieure des Beaux-Arts Accepted: Department of Sculpture September 2017 to January 2018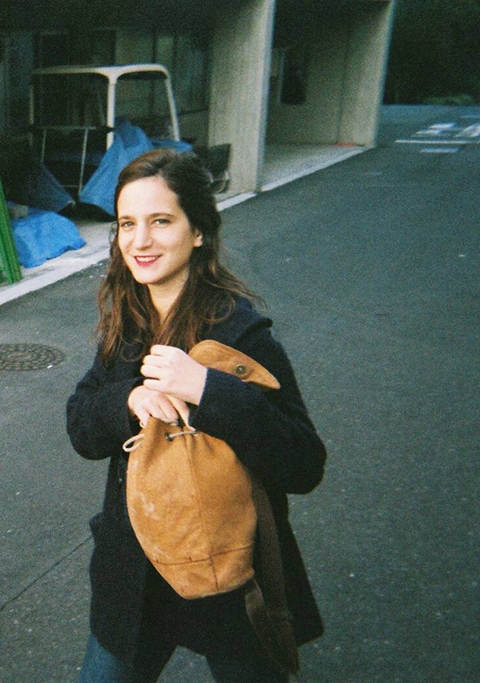 "This is the very situation in which disruption occurs and one loses one's old familiar fundamentals, the senses are shaken up, one is torn apart and exhausted pushed to the brink of an unsubstitutable void while the object still remains unfailingly significant, desirable." This quote from Roland Barthes' book "L'Empire des Signes" (Empire of Signs) echoed my desire to break out of my certainties. I wanted to move out of my comfort zone and my habits.
My work often begins by observation and use of objects around me. Daily life plays a very important role in what I do. A radical upheaval of my environment and the society that I live in is a new source of experimentation and with a very enriching influence on my work.
Musashino Art University and the sculpture department where I study are very different from my school in Paris. It's also all these differences that are very important to me that make this experience so special for me.
Working in the sculpture department is very inspiring. My creative process is always stimulating, and the exhibition that I have the chance to do soon in the school strengthens me in this way.
I am also fascinated by Japanese crafts, and I am very happy to be able to walk around this department. There are not many people who speak English, but everyone in the school, as well as students from other departments, are very friendly to me and help me in my projects. Exchange students are lucky to have tutors who speak English, and mine supports me a lot: she is always present when I need help and really makes easier my life and my work.
Although I like going to the center of Tokyo, it's nice that the school is a bit far. The neighborhood is very quiet, and I really enjoy living here. This contrast makes my excursions always exciting and enchanting. After more than one month I've been here, I still feel amazed and extremely inspired by the surroundings, and it stimulates my work.
And even though I still have two months in Musabi and more in Japan, I would always have the feeling that I didn't have enough time to be here.
Hilda Niemelä
Aalto University Accepted: Department of Industrial, Interior and Craft Design September 2017 to January 2018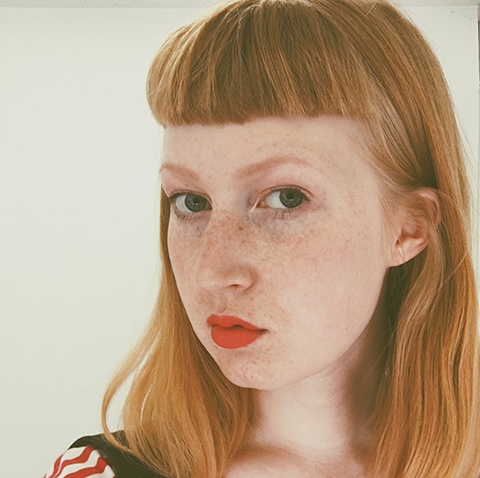 Time is flying by, and two months have already passed. I'm Hilda Niemelä, design and textile student from Finland, Aalto University doing textiles in Musabi for one semester.
During these two months, I've experienced so much already, and I'm grateful for every moment. Arriving to the school dormitory and to the university was made so easy for us exchange students, and I couldn't have had a better start to the semester. There's something very familiar in Tokyo, and I feel myself extremely comfortable here, even though it's my first time in Japan. Musabi dormitory is super sweet, and we have an amazing dormitory adviser, who is also a student herself. Dormitory life feels like a long school field trip. In need of company, I can just knock on my friends' doors and watch some anime together for example.
The classes here are not that different from Finland, which was a quite nice surprise since everything else is completely new for me here. I studied a bit of Japanese before coming here, and I'm really motivated to speak fluently someday. I also feel it is easy to make friends here because everybody is so kind and warm. My favorite place at the campus besides the textile studios is the library! And the whole campus area still amazes me every day.
Musabi already feels like home.
Kim MinKyung
Hongik University Accepted: Department of Visual Communication Design September 2017 to January 2018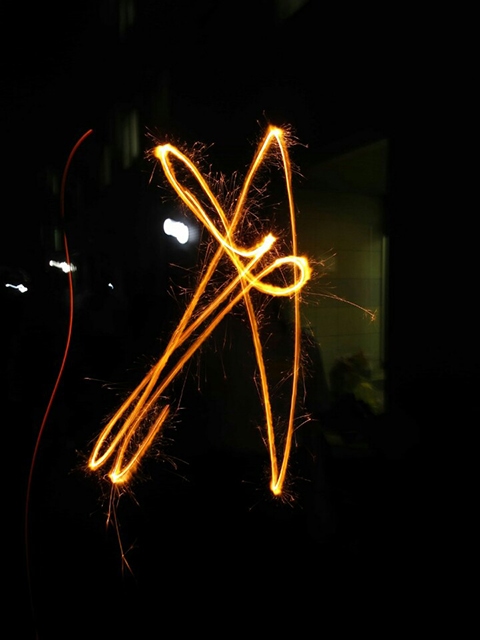 私は、ムサビを選んだことにとても満足しています。ムサビでは毎週、他の生徒の作品をあちらこちらで展示します。他の専攻、他のクラスを受講する学生の作品を見て、コミュニケーションできるのはとても良いことだと思います。また、作品のレベルが非常に高いです。
ムサビは綺麗で、設備がとても充実しています。私は視覚伝達デザイン学科のブックバインディング授業に参加していますが、製本室の設備が非常に素晴らしいです。学生が学ぶ時に不便さがないように気を使っていることを感じます。一つ残念なのは、学校や寮の規則が少しタイトであることです。特に門限が深夜12時までであることが不便です。
私はこの町が本当に気に入っています。この町はとても美しいです。周囲の風景は心を清らかにしてくれて、寮から自転車で通学する林道は学校に行くことを楽しくしてくれます。何よりもこの町には、小さくてかわいいお店や、優しい人々がいます。短い間ですが、ここでの生活は、私にとってとても大切な思い出になるはずです。
Kevork Kojayan
Köln International School of Design Accepted: Department of Science of Design September 2017 to January 2018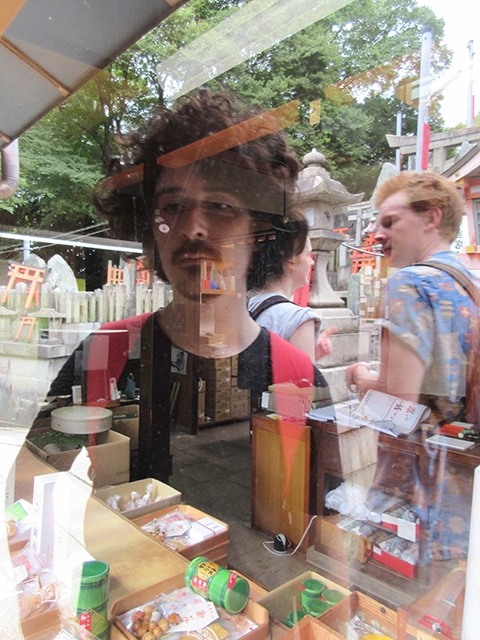 Konichiwa, My name is Kevork Kojayan. I am a student from KISD (Köln International School of Design) Germany. My origin is Armenian from Lebanon, which makes me speak several languages such as Armenian (mother language), Arabic, English and German since I moved to Germany to live and study there.
It has been two months since I came to Japan, and I had many new experiences like hiking in the prefecture of Wakayama, visiting Kyoto and living in Tokyo. The reason I chose Musabi as my exchange semester comes from students I met in my university doing their exchange year. I was interested in knowing how they think, create and develop ideas, which was different from what we (westerners) did in our projects. I wanted to live and learn from their teachers and professors. I study now at kisode (science of design) department. What we learn here is theoretical and practical. The feedback from teachers is very important. I take part in several courses such as "Movie and sound," which is creating animation with sound. We discover designers' work and compare their work with others. I take part also in the bamboo design course. In this course, we were introduced to bamboo. We visited the museum and started creating products and forms.
What makes me amazed during these and other courses is the amount of creativity students bring to the class. I had group workshops and been to Musabi's yearly festival. There you can see how the students work and create their artwork. Teachers and professors are always helpful. Some courses are in Japanese, but we have always tutors helping us to translate what the teachers say. It is important to learn Japanese, which we have a class too as exchange students, to understand other students and to communicate. In Musabi, you have the freedom to try and explore everything from painting to designing and art crafts. I joined a ceramic club and next week I start analog photography. Musabi has its own museum and one of the best and biggest libraries.
I am excited to live in this unique culture in Tokyo. Studying in Musabi, one may find things to be unusual, but it is in fact a great experience for life.
Lisa Woite
Universität der Künste Berlin Accepted: Department of Imaging Arts and Sciences September 2017 to January 2018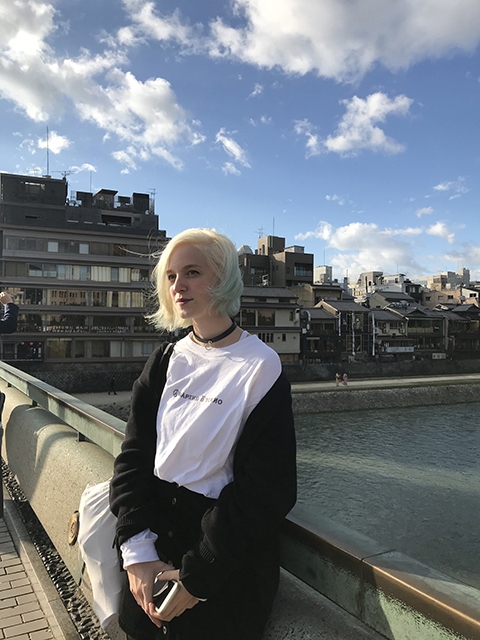 What a pleasure, what an honor to be here, to live at this extraordinary place and study at this outstanding university. I live with the constant fear of wasting one precious minute.
I wanted to study in Musabi to leave my comfort zone and get new views on art production and education, but little could I have guessed what a life-changing experience this would be. My first two months at this university have shaken a lot of my views on art production, and the different approaches and attitudes here make me question my thought-patterns in the most positive ways.
My classes at Eizou (Imaging Arts and Sciences) Department are structured like workshops, which are quite different from my home university, and I really like this way of working as it is so focused and intense and gives you a chance to get to know your classmates and their art. I love to be in an environment in which so many genres, techniques and ways of filmmaking exist next to each other.
Every day I am impressed by my bright, funny, incredibly gifted and hard-working fellow students who are all such outstanding personalities with a lot of respect for each other's work. I am learning so much, from actual skills and conditions of filmmaking to the treasured details on Japanese culture and language my classmates are teaching me. I have met the most impressive people here and am sure these friendships are made to last.
From the very moment of your arrival, you are being so well taken care of, and the amazing people from the International Office guide you so nicely through your first weeks and will help you to solve all possible problems.
Astonishingly, the language barrier never felt like a problem to me even though my Japanese is still on a very basic level. You have your tutors who will translate for you during classes, and everyone in general is so considerate and eager to include you and make sure you understand everything and feel comfortable.
My teachers are so inspiring and warm-hearted, and you and your work are taken so seriously. At Musabi, you truly get a feeling that there are no limits to what you can achieve. I am still in awe and don't know if I will ever leave this state during my stay here.
Aaron Cheng
Pratt Institute Accepted: Department of Painting September 2017 to January 2018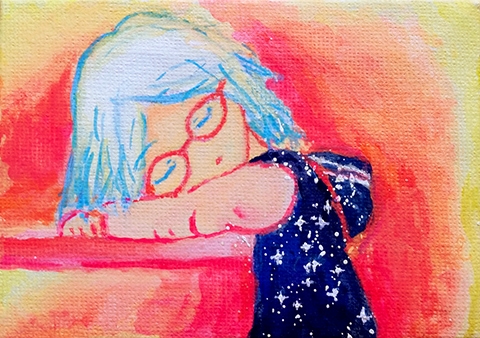 It has been halfway past my stay for a semester here at Musabi. I'm still trying to process all that has happened so far, but what I can say is that the time I spent here at Musabi is incredibly worthwhile. I can only wish that I could have spent an entire year here, to experience all the wonderful seasons that Japan has to offer in its unique way.
As a 3rd year student in the Oil Painting Department, I find that the students there are very friendly. The way they do things here is very different from what I'm accustomed to, so they helped me get used to some things. I'm very humbled to see the artworks that they make and find that they are very skilled at and put their heart in what they do.
I find that life in the dorm is very nice. The dorm manager and his wife are both very hospitable. Breakfast and dinner are provided there as well as a shared studio that I worked in during my first month here. The students at the dorm are also quiet and friendly as well, so it's a relief to know that it's a dorm where I can sleep soundly at night.
The campus isn't too big or too small for me. The atmosphere is nice, and it's very spacious and clean. I also had the opportunity to participate in the school's art festival, where I got to see so many student's works and their creative potential. I won't say that there weren't any down moments for me, but it was definitely worth opening my eyes to some new experiences here in Japan. I truly wish I could stay here for a whole year.
Feiying Fan
Pratt Institute Accepted: Department of Visual Communication Design September 2017 to January 2018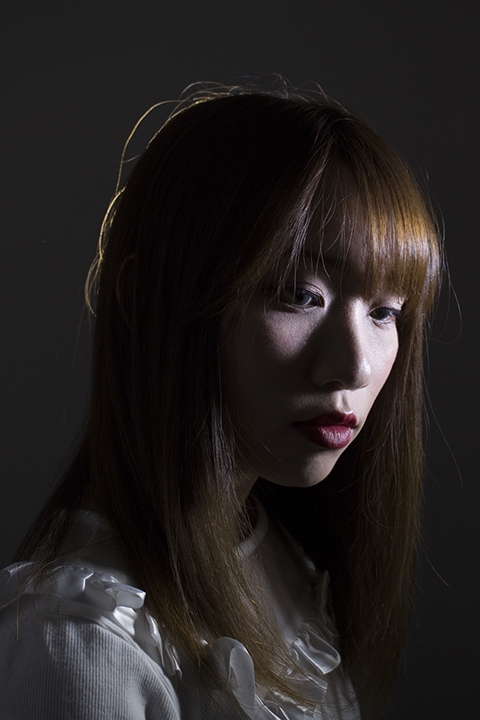 I'm grateful for the opportunity to study at Musashino Art University. Living in Tokyo gives me the chance to meet inspiring artists and amazing people. Everyone here is incredibly friendly and supportive.
The classes are constructed in a very different way at MAU in the Visual Communication Department compared to my home university, Pratt Institute. Here at MAU, we would work on one or two projects for the semester, and we have a lot of freedom on the projects. More time is given to execute our ideas while very minimal instructions are given. Students are expected to be self-driven and self-motivated.
My time in Tokyo has been freeing, I was given the opportunity to reevaluate and reinvent myself. Japan is absolutely magical. Living in Tokyo not only gives me a better understanding of the Japanese culture, it also makes me appreciate matters that I have never considered before. The dormitory is lovely. Commuting to the city has been a bit of a hassle but the neighborhood is surely charming. Biking to campus is relaxing, and the landscape is alluring.
My only complaint is that four months is such a short amount of time, but I'm sure this will be a life-changing experience.
Johanna Lehto
Aalto University School of Art and Design Accepted: Department of Imaging Arts and Science April to July 2017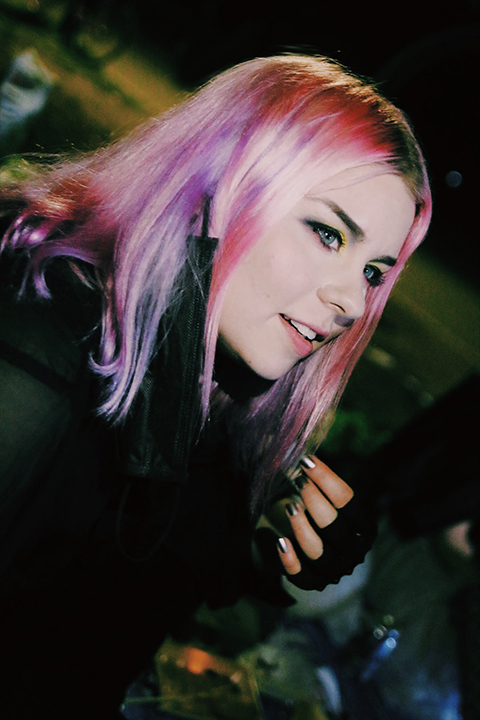 A year ago I was waiting for a Chuo Line train in Shinjuku (it was my third time in Tokyo), and on the track I saw a big billboard saying Musashino Art University. I liked the sound of it, and I wondered what it would be like to study in this university. On that day I was on my way to Koenji, and on this same particular day I got a strong feeling that I need to come back to live here. Little did I know that a year after, I would keep finding myself waiting for a Chuo Line train every morning, this time from Koenji to Musabi.
I'm already quite on the finish line of my Master's studies, but I'm grateful that I got the opportunity to study in a school like Musabi before graduating. I enjoy the classes so much, and even though my Japanese skills cover mostly just the very basics and I don't talk so much yet, the classes are easy to follow - not to mention a good chance to learn the professional vocabulary of the field. My teachers are great and inspirational personalities, and with them I can talk also in English, so we have already had some nice conversations as well. I have found it very interesting to learn about the different approaches towards the art scene and the field in general on this side of the world.
When it comes to Tokyo, it is such a dear and special city for me. The beat and the pace of the city fit mine so well, and I'm really glad Musabi has given me a completely new wonderful environment for exploring and feeling it.
Alberto Candido
Polytechnic University of Milan Accepted: Department of Science of Design April to July 2017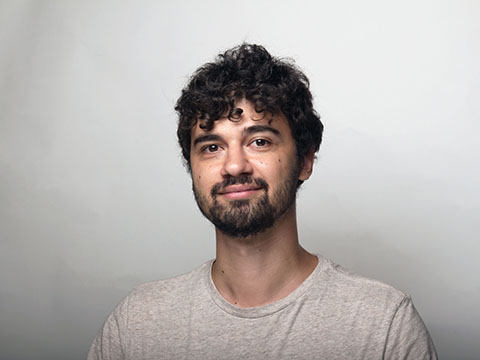 My name is Alberto Candido, and I am student of Communication Design based in Milan.
For me, Japan is a country a person can draw a lot of inspiration from. I visited this place two years ago, and I was deeply and truly fascinated by it.
When I came to know that my master's degree provided for an international exchange program, I immediately thought about the possibility of studying in Japan. When I read the schedule, my joy was twofold: not only was Japan one of the participating countries, but also Musashino Art University was one of the possible options. I had already known Musabi for a long time due to its prestige and because of its famous professors and fore-student, and I cannot deny it for its extraordinary beautiful library.
I am really enjoying my study in Musabi, and I have to say that everything is really different from my University in Milan, from the great facilities to the vivid campus life. What I like especially about Musabi is its unique experimental and artistic approach, which is very different from the one I'm used to. Thus, I think that MAU is a wonderful environment since I like to embrace new ideas, even those very different from mine, and I strongly believe in interdisciplinarity as a great resource for creativity.
I have a bachelor's degree in Computer Science, so I am still a rookie in Design but I am looking forward to learning more and more, and I definitely think that this experience in Musabi will enrich my vision of the world and will make me grow both as designer and as a person.
Filippo Casalini
Polytechnic University of Milan Accepted: Department of Industrial, Interior and Craft Design April to July 2017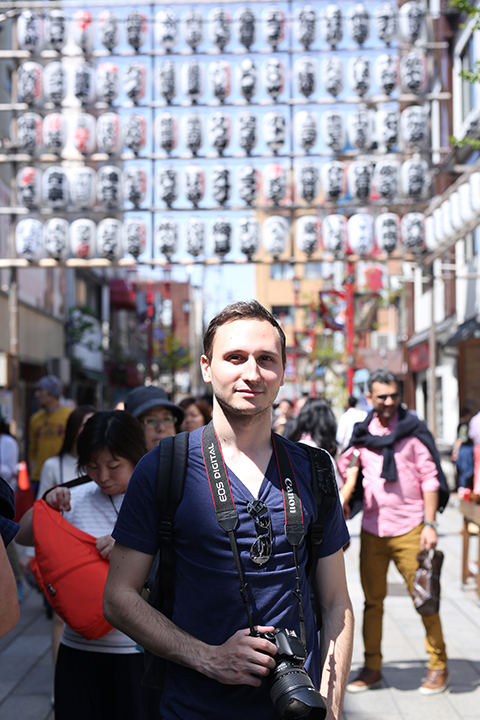 My name is Filippo Casalini. I am from Milan, Italy. I am currently in the second and last year of my post-graduate degree in Interior Design at the Politecnic of Milano. I graduated as a Surveyor and started my university career with three years of Interior Design at Naba academic. After taking my degree in Naba, I went to Toronto, Canada on a Coop Program to further my knowledge of the English language and to have some work experience in design and architecture.
I decided to come MAU because it is a unique opportunity at this moment of my life. This experience would also help me to learn about other cultures, improve my English and learn Japanese. This would enrich me, both personally and academically.
From the moment, I discovered my interest in design, I have always looked at the Japanese culture with fascination and curiosity, considering it a great source of inspiration.
I have been here a month, and I am already in love with the MAU campus and Tokyo! I am sure this is going to be one of the best experiences in my life!
Dorothea Blank
Universität der Künste Berlin Accepted: Department of Architecture April to July 2017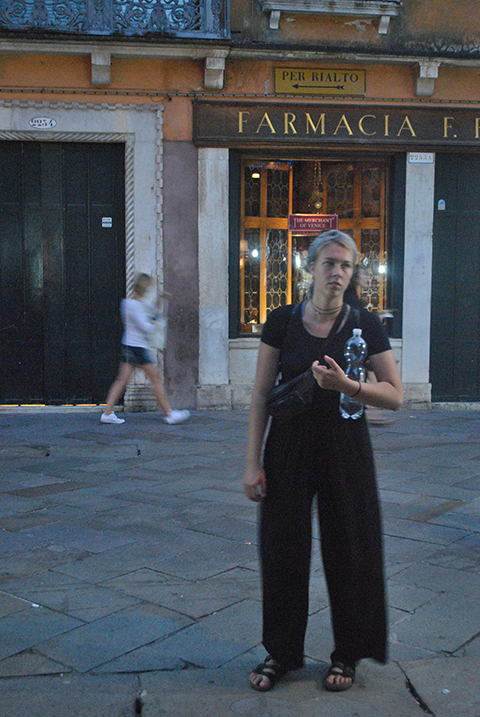 Time is flying - it is already more than a month ago since I arrived in Tokyo and started my exchange semester at the Architecture department at Musabi. The arrival and welcome of the university was amazing, and everyone is helping you to get into the structure of the university. I really enjoy the personal relationship between professors and students and the additionally offered clubs and activities. It gives you a good balance to the university's neighborhood, which is quite far from the vibrating city life of Tokyo. Sometimes it's hard to get into some of the rules, but it's important to accept and respect them. I am learning everyday something new, and for me life is feeling like a journey where I can put everyday a new piece to the puzzle. The time I spend at MAU with professors and classmates, the city and the daily life gives me a big pool of inspiration, experiences and input. I'm thankful for this opportunity and really looking forward to the next months at MAU.
Philip Treschan
Universität der Künste Berlin Accepted: Department of Imaging Arts and Science April to July 2017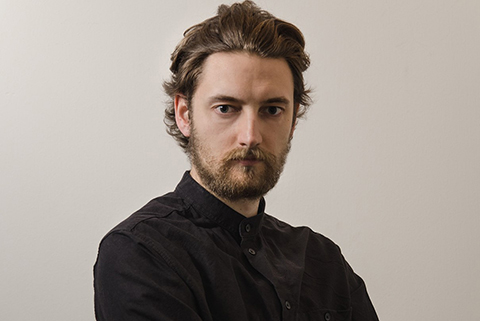 Without speaking a straight sentence of the language, I applied for the exchange in Japan.
My goals were to step out of my comfort zone and get new impressions and inspirations.
I guess the clash of tradition and modernism is what everyone wants to experience in Japan. But to observe even the smallest differences in culture and everyday life is what I wanted to find. Now, over two months after my arrival, I still feel wonder and daze throughout the day. A metropolitan area of 37 million citizens, of which 99,9 percent are at home after 12 PM at night, is one of the biggest wonders to me.
My worry to have some hard times to connect with Japanese people was for no reason. Against the prejudice of being diffident, every person I met was even more open and warm-hearted than I ever could imagine. But being confronted with a lack of communication is a evident part of my time. Already expecting this in Germany, I felt pushed to connect this feeling to my university outcome. I choose to continue the discipline of moving images, where I explore the language gap and miscommunication, to end up where I hoped to be – lost in translation.
I am very happy and thankful for the great opportunity of studying at MAU.