Jianhao ZHENG
Pratt Institute Accepted: Department of Imaging Arts and Sciences September 2022 to January 2023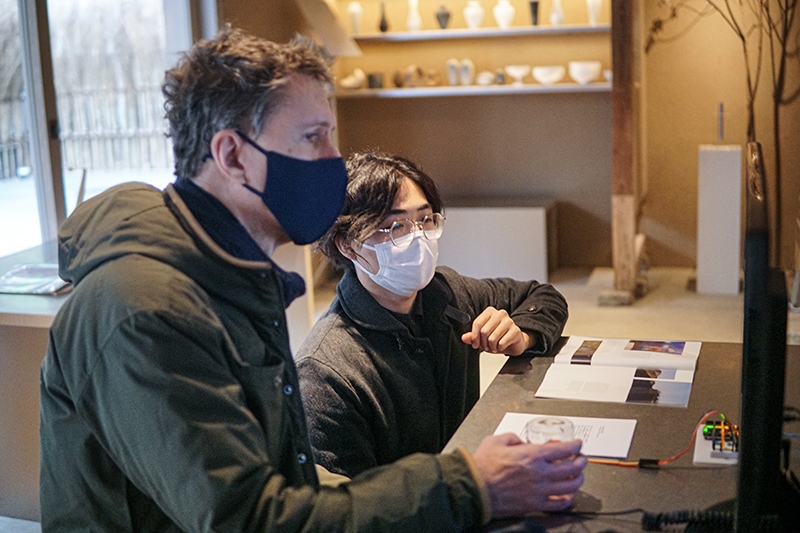 After a few years of living in a mess from the pandemic, I was so lucky to have a chance to be an exchange student at MAU. I have studied in a few different countries before, but the semester at MAU is really a life-changing experience for me.
I am an Interactive Arts major. At MAU, I studied in the Department of Imaging Arts and Sciences. I joined the 3rd Grade Advance Production Exhibition where I presented my work to a public audience for the first time, as well as receiving lots of feedback from everyone. I also even have the chance to hold my first solo exhibition with the help of my friends at MAU, bringing my works outside of campus, and into the community.
I enjoyed living around MAU. It is not in the center of the city but still remains an easy access, allowing me to visit many exhibitions and walk around different streets around Tokyo. On the west side, Mt. Fuji is also not far away. When I look back on the time I spent on campus, there are so many beautiful Fuji sunsets from the windows of Building 12 and 15. The quiet neighborhood of MAU also made it easier for me to focus on myself and my work during the semester.
Traveling around is a must for studying abroad, and I also enjoyed it. Besides the countless day trips around Tokyo and all the way to Mt. Fuji, I also had two extended trips northbound and eastbound. In early November, I went to Kanazawa, Toyama, and Matsumoto, where I visited exhibitions, and streets, and also traveled through the top of Mt. Tateyama covered by snow. At the end of November, I departed eastbound to visit Kyoto and Osaka. The time spent there is also unforgettable.
Staying at MAU during Fall Semester gave me the best chance to enjoy campus activities, especially the Art Festival where hundreds of students from different grades show their works, crafts, and creativity. Every year, the whole week is dedicated to preparing the event, making it really a huge celebration and a must-do at MAU.
Everyone I met at MAU is nice and amazing. I learned so much from working with my classmates as well as seeing all the student works from different departments. I made lots of friends at MAU and we still remain in contact with each other. I also received a lot of advice in future planning from my professors and the senior students, so now I am actually planning to go back to Japan for my graduate study.
Yue DUAN
Pratt Institute Accepted: Department of Industrial, Interior and Craft Design September 2022 to January 2023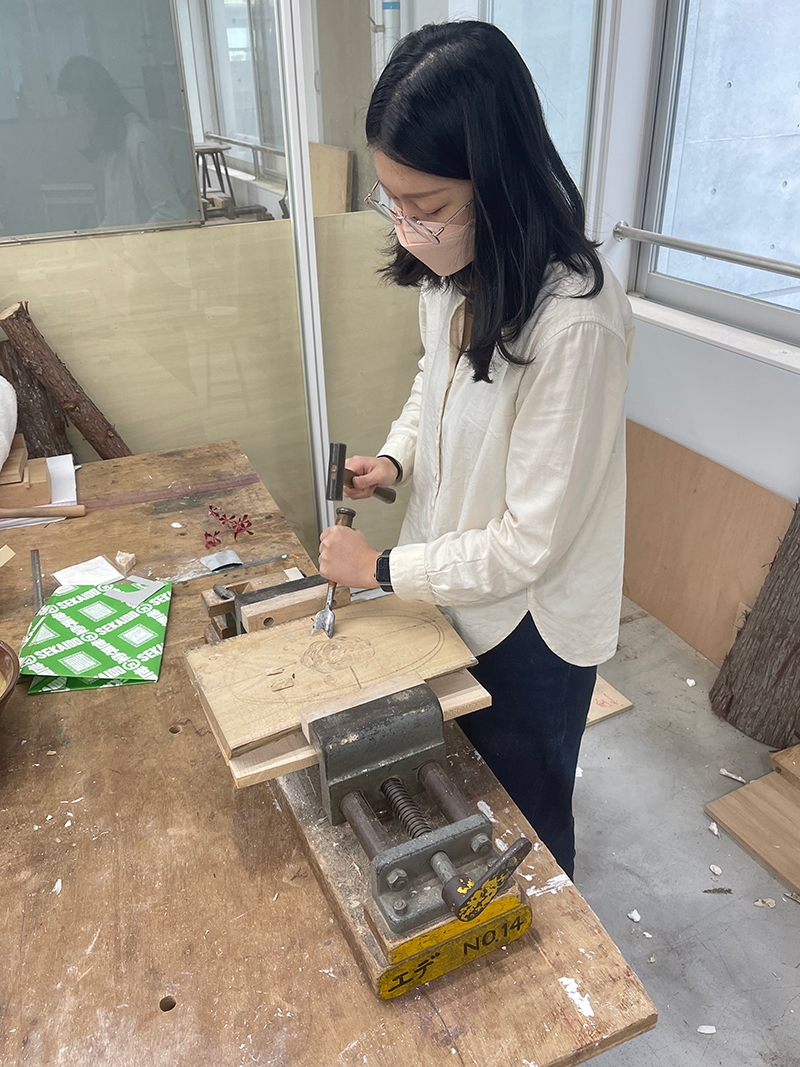 It was my honor to become an exchange student at MAU. The experience at this university helped me to become a better designer and has become one of my most precious memories.
I joined the study abroad program at MAU on purpose — before moving ambitiously in the rush of future and cutting-edge technology, I wanted to understand more about the relationship between humans and designs, material selections, cultural effects, and production processes. As a 20 years old designer-to-be, I was eager to open my mind in more ways that could keep me grounded in my future studies in industrial design, and MAU has provided me with incredible support, resources, and humanistic care. Through immersive experiences in not only MAU but also Tokyo, I started to understand how cultures shaped Japanese design differently and made it unique in the world. This program indeed fulfilled my self-construction and deepened my professional understanding. In addition to professional design skills, I became more aware of how to experience life and appreciate the world around me.
Vera Nella Santeli VÄÄNÄNEN
Aalto University Accepted: Department of Imaging Arts and Sciences April 2022 to July 2022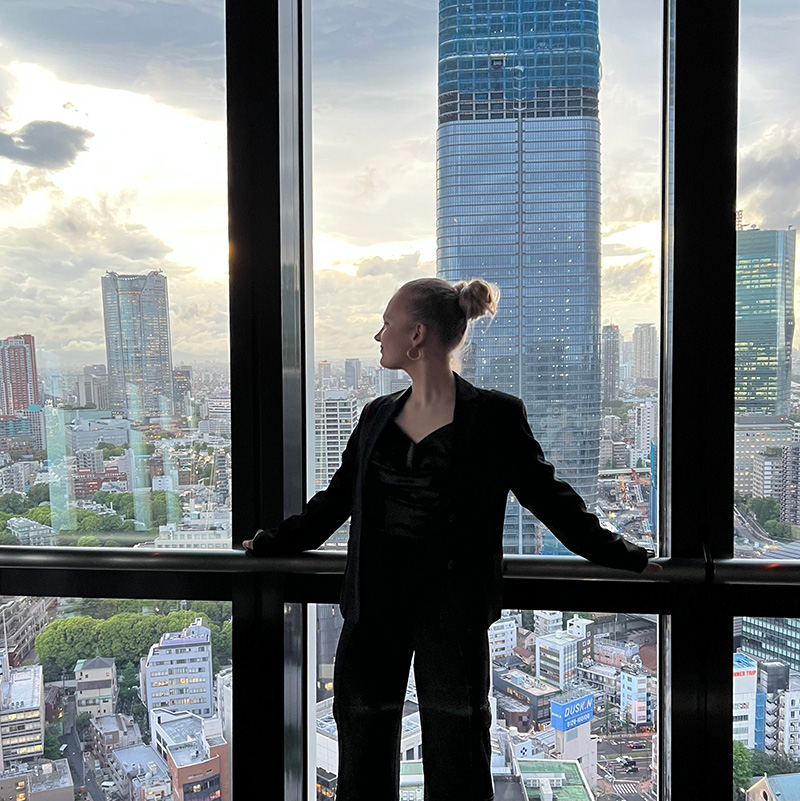 Living in Tokyo has been a life-long dream of mine, and Japanese culture has always been a major influence for my artistic practice and aesthetic understanding. I have always admired and drawn inspiration from Japanese designers. The sense of aesthetics is deeply rooted in the society and extends to all areas of life, from silently enjoying a cup of grass green matcha, to the beautiful tranquility of Zen gardens or striking sense of fashion on the streets of Harajuku.
My time in Musabi was an extremely meaningful and transformative time for me. It showed me new ways of learning, doing, thinking, and being. Musabi felt like a home on the other side of the planet. Above all, I was surprised by the community I found. I was touched by how many beautiful, genuine and caring encounters I had every day on the campus. I created meaningful and deep friendships that I will cherish forever. We shared long lazy days, laying on the grass, drinking iced matcha and snacking on pastries from the school bakery. Some weekends, we packed a car and drove all night, to wake to the sound of the waves on the coast the next morning. Sometimes we worked all night on our course projects and sometimes we got lost in the steamy nights of Tokyo.
It was a beautiful balance of different shades, sounds and tastes of life - and the feeling of being fully alive.
Moreover, I cannot describe how important my time in Musabi was in terms of my artistic practice and my identity as a designer. I had completely underestimated the influence that the exposure to new practices and methods could have on me. It was fascinating to be surrounded by other students who were fully dedicated and passionate about their own practice. The professors were the best in their own fields, and their advice and guidance was priceless. I want to especially give my thanks to President Nagasawa, Prof. Julia Chiu, Prof. Charles and Prof. Kobayashi for their dedication and guidance. They were able to recognise my strengths and support me on my own individual journey. My time in Musabi taught me a lot about myself as a designer and helped me to shape my own artistic identity further.
I could not be more grateful about the experience, and I want to give my deepest gratitude to our amazing exchange coordinator Mr. Koga and the funniest and kindest tutor, Naoki-San, as well as my brilliant professors and beautiful friends from Musabi.
Leïla WHITE-VILMOUTH
Ecole Nationale Superieure des Beaux-Arts de Paris Accepted: Department of Imaging Arts and Sciences April 2022 to July 2022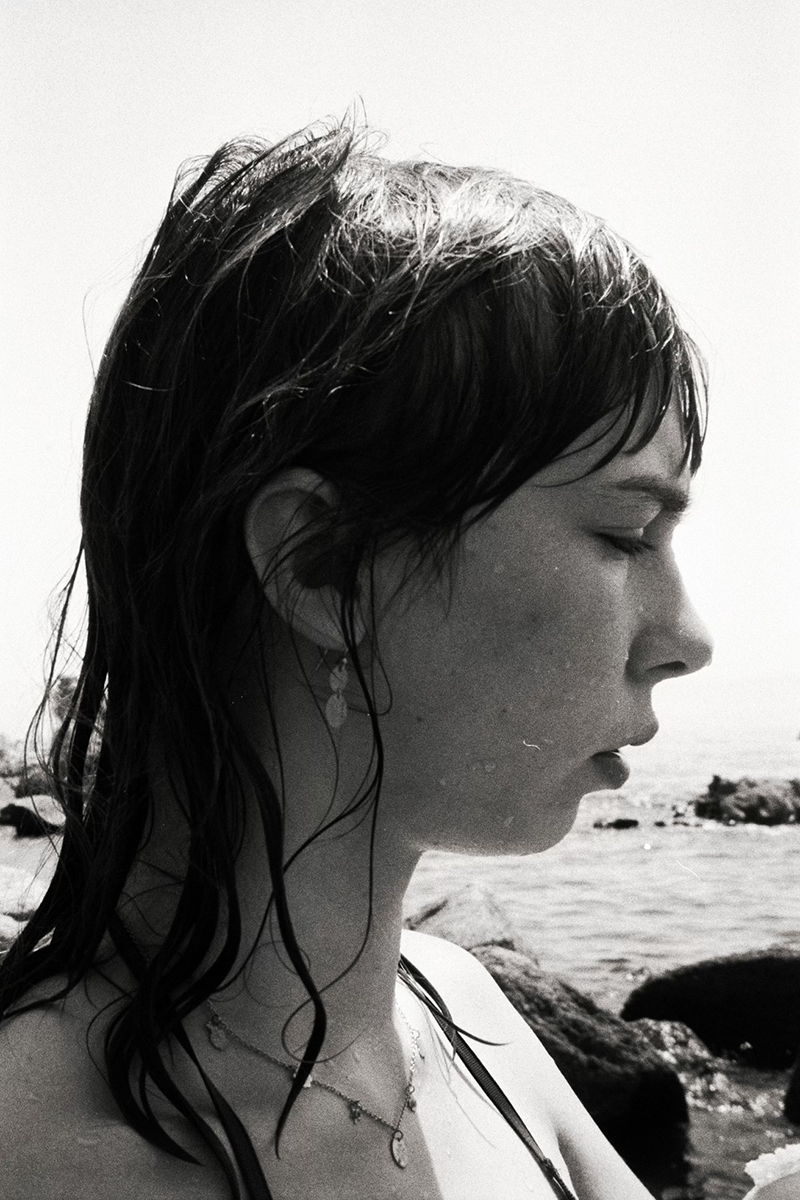 I arrived at Musashino in April, I visited the campus at sunset, meeting with Yuma and Christophe Charles sensei, about the classes I would take.
I joined the department of imaging arts and science, and started classes a week later.
I joined the classes of soundscape, performance, interactive projections...
I rented a few times a great camera VHC to make movies, and made installations with them during the class exhibition.
This camera accompanied me on various trips in Tokyo, which developed my visions a lot. It's the landscapes that called me to rent a camera. The office let us rent so many materials, which was so wonderful to work with.
I had the opportunity to go visit the Echigo Tsumari art field before the semester started, I recommend anyone to go there.
When the classes started, I met many international students that were taking other classes, so I also joined as I was curious to follow them too.
I followed classes of scenography, working with wood, with glass on the side to make sculptures, the professor kindly introduced me to his studio a few times.
I also tried the ceramic studio, on the side.
I loved being at Musashino, it was very peaceful and everyone was so lovely and kind.
My advice would be for you to go visit the studios before choosing the ones that seem good, because each of them are very special and I'm sure you will find some that feel good to follow.
I stayed at the dormitory of the school, which was very convenient for 10 min by bicycle, on the river that smells so good.
It was nice staying at Musashino because I could easily go to climb mountains, feel the silence of the end of the city. even though it was far away from the center of Tokyo, it was okay for me to take long ride of subway,
I thank everyone I met there, and hope to meet in a near future somewhere !
I had a wonderful experience there, it makes me want to come back to japan soon.
Juana Margarita LONDOÑO CORTÉS
Politecnico di Milano, Scuola del Design Accepted: Department of Scenography, Display and Fashion Design April 2022 to July 2022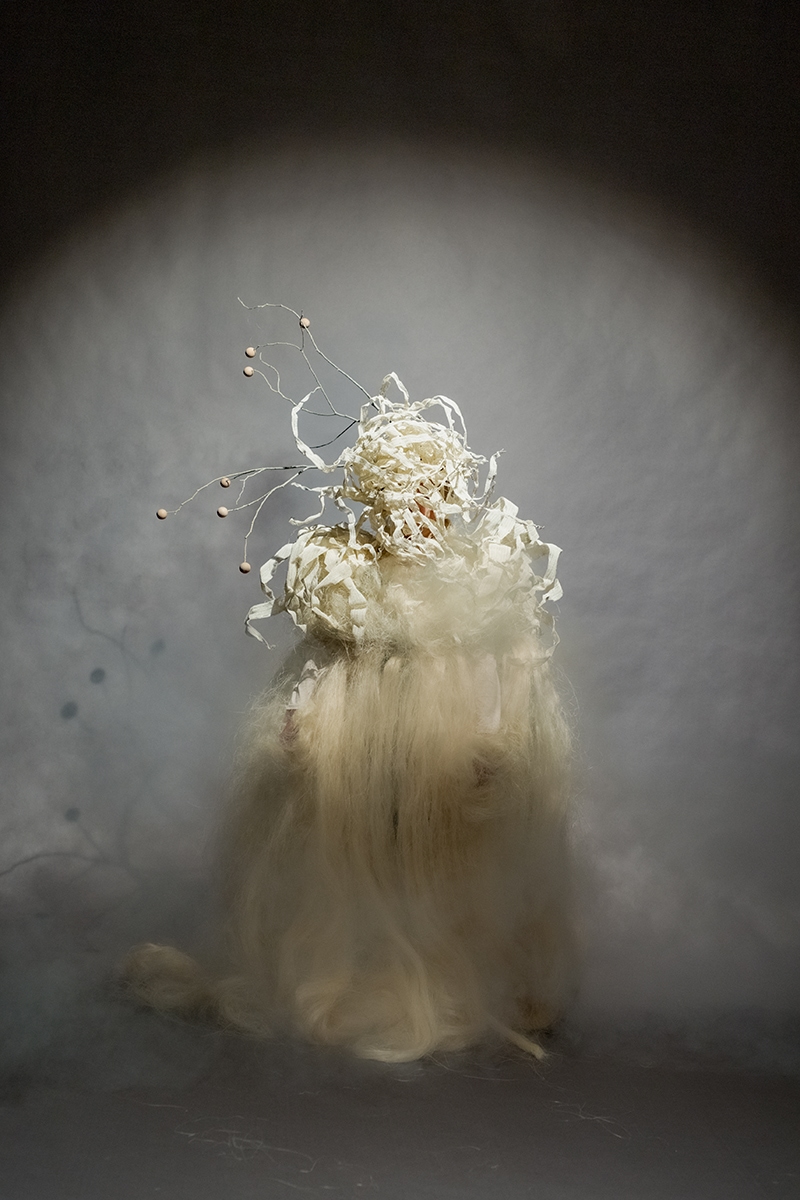 As travelers, we are always looking for something. Sometimes we know what we are looking for, and sometimes we just have the intuition of the movement. For some years now, something has been calling me to explore Japan, and the Academic Exchange between Polimi and Musabi was the perfect opportunity to do it.
Even if we have some ideas in mind before traveling, we never really know what we are going to find. And there is no other way to find out than to surrender to change and open ourselves to the new world that welcomes us. Without haste, with my eyes open, or sometimes closing them and listening, feeling, I started to understand the place where I arrived. Thanks to the precise and evocative words of our teachers, friends, and tutors, sometimes thanks to their silences, I understood little by little that there was something different in the place that surrounded us.
I found in Musabi a refuge in this new world, which reconnected me with my hands and mind from the making. An impeccable campus, full of spaces for creation. My memories of Musabi are full of Sakura and art, infinite bookshelves, the corners of the library, and large windows that reveal the trees that mark the changing seasons. I also discovered a series of laboratories that allowed me to explore glass, ceramics, metal, and wood, and the ateliers of Japanese painting, printing, and oil painting. The birds and the Koi always model attentive to the call of the painting students. The sunsets of varying colors, the kindness of the staff and students who always tried to help us find the right tools to develop our ideas.
The contact with the teachers le  me with some reflections that still resonate in my days. Professor Ikeda's words showed us another way of approaching our work and ourselves; his interest in showing us the theater world and his sensitivity to art and nature still makes me echo. Patience, interest, and respect were a constant among the teachers and assistants. Thanks also to Suzuki and Oba.
The experience was invaluable. I am just now beginning to see what it meant to me to be part, even for a moment, of that world where the sacred is in nature and our refuge has always been art. I thank my exchange partners who traveled with me on this adventure and Yuma for making everything lighter.
Javiera Ignacia SCHUMACHER HENRIQUEZ
Politecnico di Milano, Scuola del Design Accepted: Department of Scenography, Display and Fashion Design April 2022 to July 2022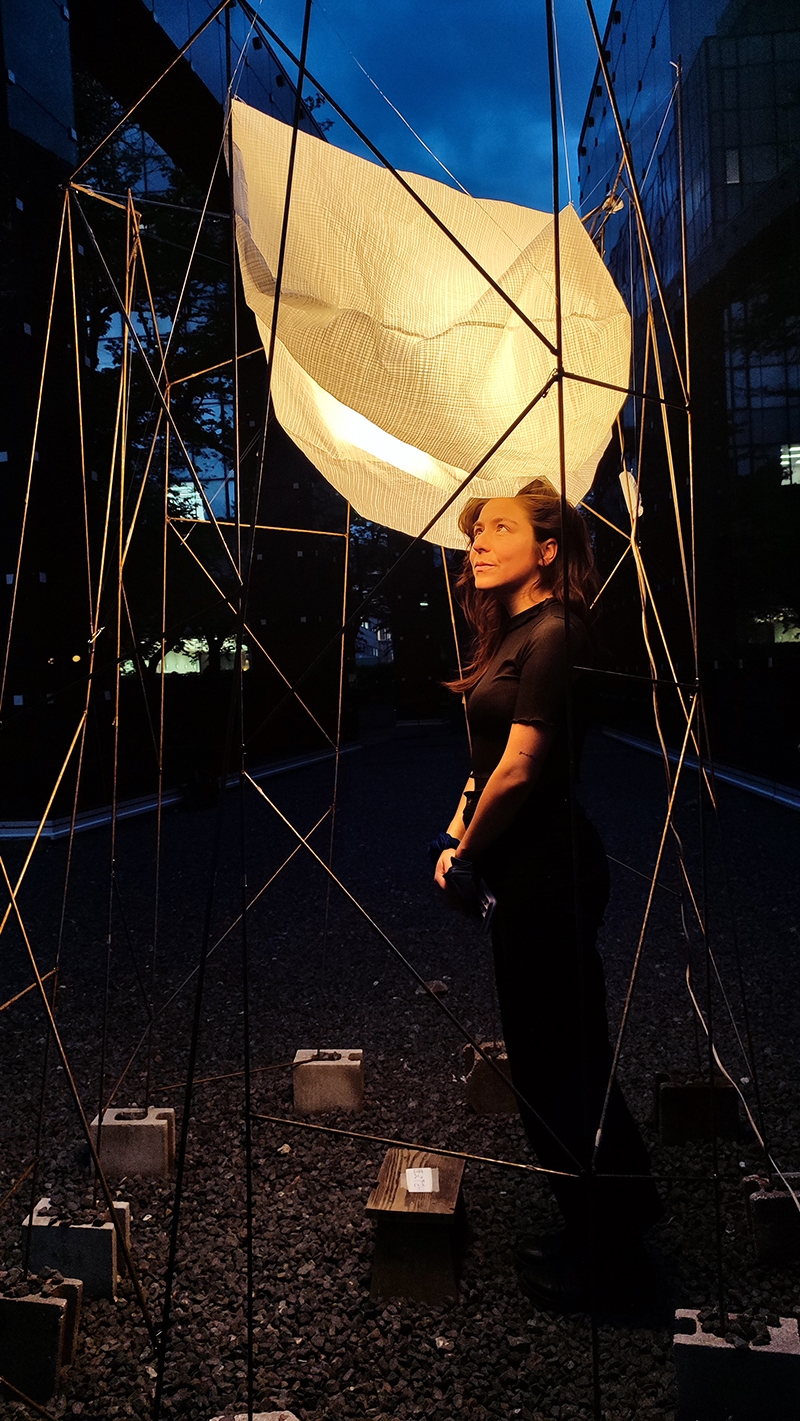 It is impossible to separate the Musabi experience from the experience of living in Japan.
Let's start because time is perceived differently, it is difficult to explain but there seems to be a continuous flow that responds to the rhythms of nature.
The Japanese sometimes move their heads when they listen in focus, to the rhythm of the waves. They listen and contemplate, they are in the present moment. One of the things that touched me the most was to understand that in Japan the sky is on earth and the spirits are present in nature in various forms. So if you observe with your whole body, you will perceive many indivisible things. On the island of the sun things can be and not be at the same time and everything is much more complex than the black and white that we westerners are used to.
Musabi is like a tiny sample of a larger Japan and also a universe in itself. It is a creative factory, a mesh of different techniques grouped in departments that are housed in buildings with a very interesting architecture. It has without a doubt the most beautiful library in the world, with an exquisite selection of books and a mystical atmosphere, as if the trees were coming through the windows. Seeing the students in their workshops is very stimulating, the ceramics, the glass, the wood and stone sculpture workshop, the painting or scenography workshops are a spectacle. The place is so magical that it has a bird house and a pond with Koys, trees and wonderful flowers. Musabi is also a garden.
The people who inhabit it are very friendly. When you arrive at Musabi by bicycle there are very kind and smiling men who patiently show you where to park. The people who prepare the food cook in a very delicious way with all the flavours of Japan that I had heard of. The students are very creative, fun and interesting. The staff are always willing to help you. The teachers are very stimulating and the way of teaching is horizontal, they accompany you in your creative process and give you a lot of freedom. There are even furry cats hanging around the campus. To all the people at Musabi I would like to extend my thanks.
Japan has become my nostalgia (Natsukashii) and I will always be very grateful to all the entities that accompanied me on this trip.
Merve CAKIR
University of Arts Berlin Accepted: Department of Architecture April 2022 to July 2022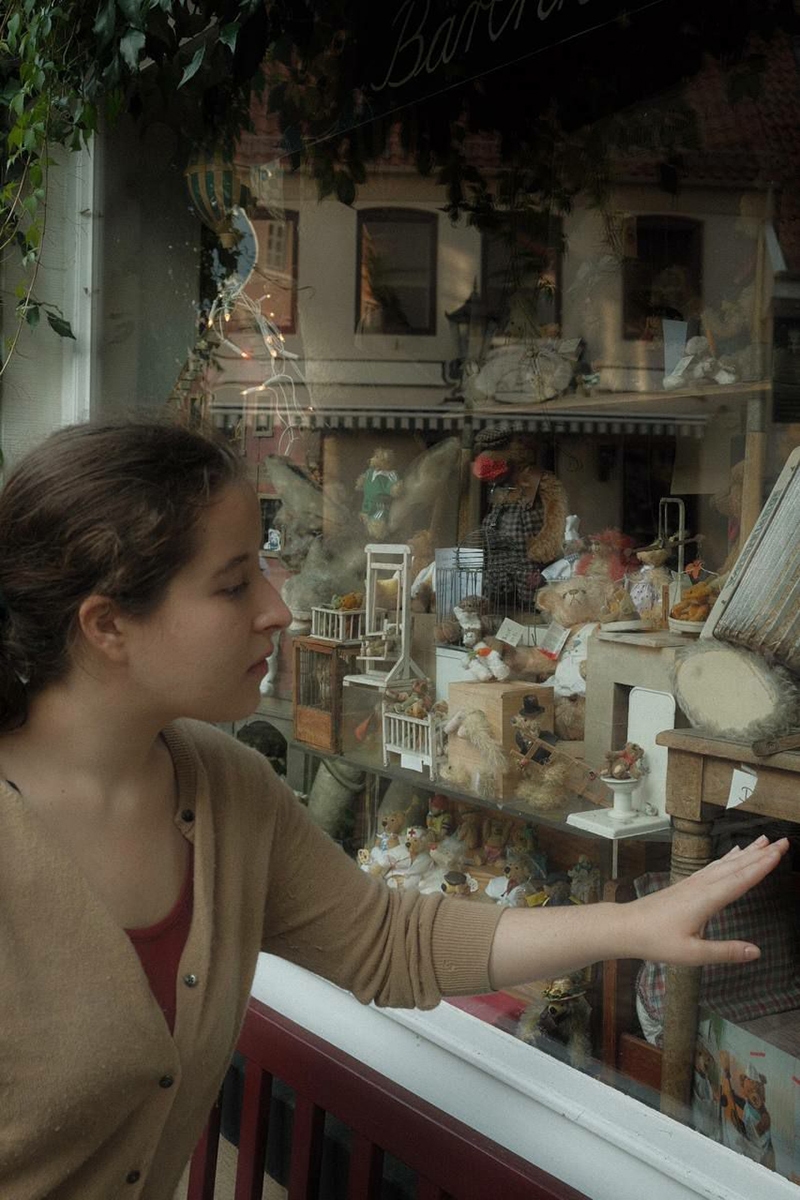 I am so grateful for being able to study at Musabi, it was possible even with the pandemic situation. I was warmly welcomed by everyone and the International Office were great and helpful and guided us. I am thankful for the chance to work with people with different perspectives and who not only come from the architecture, which was an incredible opportunity to learn from and also was inspired by Japanese environment and the amazing people I have met.
I was hoping by studying in Japan to get to know its rich culture and its traditions. Since my first visit in Japan years ago I was highly mesmerized and inspired by its traditions and culture, people and innovations. My experiences in Japan had such an impact on me. I have always been fascinated by Japanese design and architecture; of the "elimination of the insignificant." Every day I learned something new and discovered something fascinating about the Japanese culture.
The dormitory life was wonderful. The dorm manager and his wife are so kind. It is possible to have breakfast and dinner in the dining hall. And it is great that the dorm has shared spaces such as a studio and a tatami room. I have worked in the studio or tatami room also a few times.
I really enjoyed my study in Musabi, everyone was kind and I had great classmates and the professors were passionate. I learned a lot from the classes. Musabi has a great collection of art, books and design materials and objects in their museum and library.
Biking to campus was great and the neighborhood is surrounded by beautiful nature, it is calm and I enjoyed living there. I felt really comfortable here, Musabi felt like home.
This was truly an enriching and life-changing experience.
I am thankful for the opportunity of studying at MAU. It was a unforgettable time and I will always cherish these memories. Thank you for everything!
Sophie Marie DAUM
University of Arts Berlin Accepted: Department of Architecture April 2022 to July 2022
Hello, my name is Sophie, I'm a 3rd year architecture student and I decided to do my exchange semester at the Musashino Art University in Japan. I always was fascinated with Japanese Architecture and came to Japan in order to learn and experience about Japanese culture.
Japan is a lovely country with probably the most friendly people on earth so it was super easy to feel welcomed during my stay. Off course there were some struggles with cultural differences but also those were overcome by everyone working together and being mindful about their opposite.
I was super happy to study at Musabi. Not only did I learned a lot during my stay but I also made many dear friends and I always felt welcomed, not only by all of the people but also by the Musabi Cats.
That's starts with the great effort everyone did during all of my classes, where both professors and students tried to help me out as much as possible and also outside of my classes the exchange coordinator always lend a helping hand with what-ever problem occurred.
The library on the campus has a huge amount of selected books and magazines and quickly became one of my favorite study places. The museum on the campus is always worth a visit and inspired me a lot with all of the show-cased art work.
The classes itself where mostly on Japanese but even though I am a low level Japanese speaker there was always help for me to follow along. I can't decide which class I had the most fun in because even though each class required a lot of hard work from me, they all were very enjoyable as well. I had the great opportunity to not only join classes in the architectural field but also to explore into other directions and learn new things in other design practices.
I learned a lot, not only in my studies, but also on a personal level. But the biggest win for me in the classes where the professors and student, who always help and supported me. With many of them I could form a strong relationship which made this exchange one of the best experiences of my life. They all become so precious to me.
Thank you everyone for this great exchange!