Marc Lohner
École nationale supérieure des Beaux-Arts Accepted: Department of Sculpture September 2019 to January 2020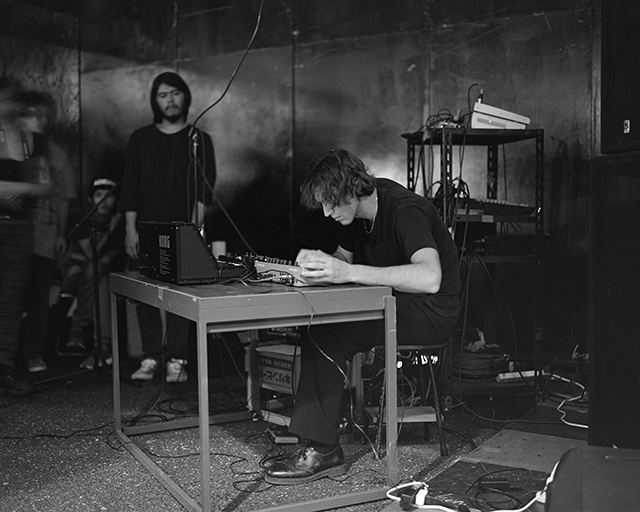 Japan is one of the places I wanted to know not as a tourist but as a long-time resident. The exchange program made it possible. Frankly, I never quite grasped what attracted me, and the answer I give changes every time. What I do know is that I started having very primitive, childlike visions which point to a rediscovery, everything looks more and more familiar. It is also because I have decided to make a turn to a more archaic form of interacting with the material by postulating to the department of sculpture at MAU—since I knew on forehand the variety of the equipment and studios that was at the disposal for the students.
Back in Paris, I was mainly focused on analog photography. It is very recent that I discovered my hands. Sound performances are also part of my practice, to which I also found a channel in Musabi. I had the chance to join the sound club during the art festival; lovely people are everywhere. One of my main goals is to perform around Japan, collaborate with other sound makers.
From campus life to the world outside of it, everything has been far beyond my expectations. Professors, tutors and the staff are very open and helpful, in every subject, whether it's technical or mental, they are ready to enhance what little potential you possess. Shared studio life with fellow creators is very balanced, professional and respectful. The class I am taking is project-based, meaning regular meetings with professors to exchange ideas, which is very similar to the system we have in Paris. As I mentioned earlier, social clubs of the school offer a variety of activities. Regardless of my very poor Japanese, I also got accepted to the Kyūdō club, something I would never have the chance of experiencing. The sports complex of the school leaves no time for melancholic dwellings. The library is yet another place to get lost.
For the accommodation, I have chosen to stay in the Student Dormitory of MAU, as it seemed the most frictionless way. Although it is far from the city center, I would say it is a very good landing point, and I am glad I did, two very sweet people are in charge.
You also get a bike and cycle the endless loops of mazed streets. Very few could be said here about life in Tokyo, find out for yourself! I still have a lot to go through and would strongly encourage anyone down the same path.
Oona Räyhäntausta
Aalto University Accepted: Department of Imaging Arts and Sciences September 2019 to January 2020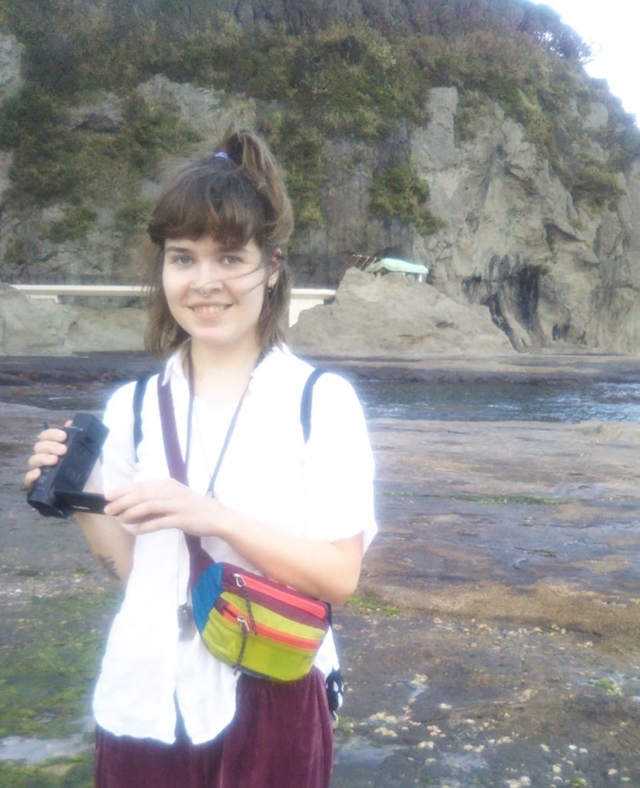 Back home, during my first year of Master's program in Visual Communication Design, I began to realize that combining different media is the most intuitive way of working for me. Before starting studies in the field of visual communication, my focus was on music and performing arts.
Japan was an unquestionable choice since I've been interested in Japanese culture for a long time. I had my bachelor's exchange in Kyoto, which left me wanting to come back for more. Being interested in moving image and media art (and learning about the amazing alumni the school has), I decided to apply for Imaging Arts and Sciences in Musabi.
We're now halfway through our studies, and in my case, it means new courses are starting now. I've deliberately taken courses out of my comfort zone and, consequently, have been pulled out of my usual way of thinking. It's been tough but so rewarding: I've found new ways of working and creating. Some days have been so inspiring that I've almost ceased to function. The courses have also helped me to remember and utilize my background. In addition to the courses from my department, I've taken a bamboo design class which has been a nice touch of handcraft.
Learning some Japanese is definitely recommended, but people are kind and helpful. Even knowing the most basic things such as thank you and sorry goes a long way. Observing your surroundings is the easiest way to learn!
There's a lot to do, see and experience in Tokyo. I chose to live near school and nature. Depending on what you want to focus on, it's worth considering where to live since the city center is an hour away from school.
Being in an environment where you don't exactly know what to do or how to act can sometimes be overwhelming. I believe that this teaches you a lot about yourself and aids the process of expansion and growth, both artistically and generally speaking.
Virve Ranta
Aalto University Accepted: Department of Imaging Arts and Sciences September 2019 to January 2020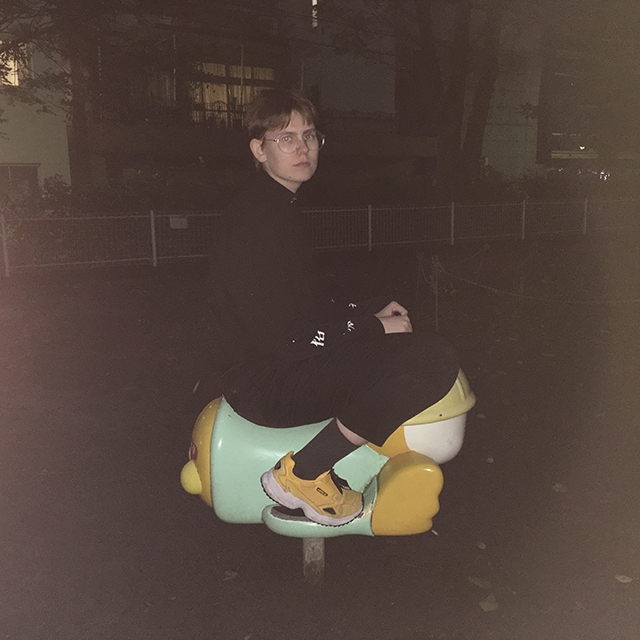 I have been fascinated with Japan for a long time and I already knew some aspects of the language and culture after my first visit a year ago, but it was nothing compared to the amount I did not know. The first few weeks were full of discovery and amusement from daily experiences. I definitely did not know someone at Musabi would correct my lazily parked bike, or that I would race with the singing trash car, to make it in time to get rid of my garbage bags. The sheer horror and disappointment of standing outside your house while it is raining, holding the garbage bag, seeing the trash car driving away is a very unique and odd experience. Thrilling!
The people I have had the joy to meet have been brilliant: the staff, our tutor, other students and of course the fellow exchange students. I have also enjoyed my accommodation quite a bit—I live in a share house instead of dormitory. This house has had many aces up its sleeves. After moving in, it turned out the other exchange student from my home university, Aalto University, is my flatmate. If only that was all. I had carefully wished to get to encounter something while in Japan, and this house has made my dreams come true. At 3 am, coming back home, I finally saw a real mukade, Japanese centipede, peacefully minding its own business on the stairs. I can now leave Japan disgusted yet happy.
Jokes aside, thinking I will have to return to Finland is melancholic, as I have enjoyed living in Japan. Getting out of the life you've gotten used to has helped me to grow and learn a lot about the world, people and myself. Japan is such a beautiful country, the food is great and even the most ordinary things never fail to astonish me—how can the narrow and packed streets be so quiet and calm with no single sound, when the population is 25 times more than Finland's population? I have gotten a lot of inspiration from small, amusing experiences to my storytelling and I am excited to put it to use.
Jang Hyejin
Hongik University Accepted: Department of Science of Design September 2019 to January 2020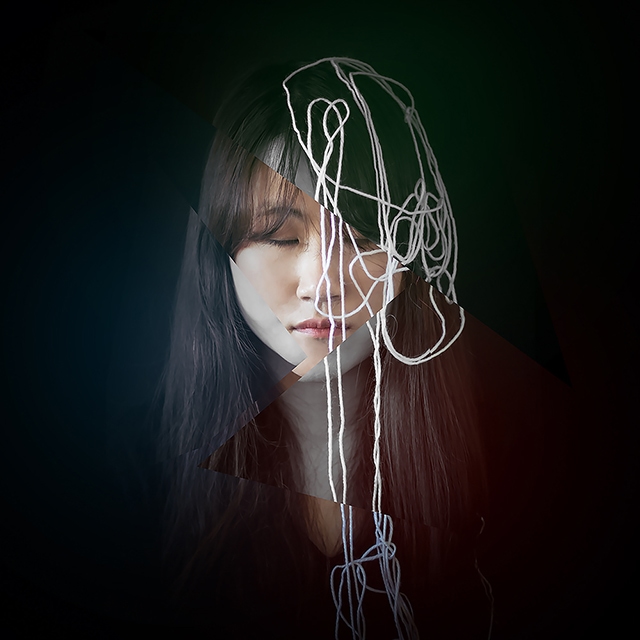 I have been interested in typography and wanted to see typography with new eyes. Meanwhile, What stood out to me was that Japanese had three characters which were Hiragana, Katakana, and Kanji (Chinese characters). I deeply realized the importance of characters when conveying information, so I wanted to know how the Japanese designers handle the three kinds of characters. And I thought it would be very helpful for getting new eyes to see typography. Since then, I searched for Japanese universities that I could go to. I chose Musashino Art University since there was a lot of classes for typography and the quality of graduation works related to typography were very high.
Now I am mainly studying typography and editorial design here. Most of the classes are conducted in Japanese, so I think the better your Japanese skills are, the wider range of choice for the class is available. Actually, I do not have difficulty in understanding lectures but do in designing with Japanese characters because I have never designed with Japanese characters before. However, I could get some valuable advice from teachers. They are very kind and give appropriate advice. Also, I can see wonderful works by students, which is very stimulating for me. Now I feel that I am getting over the difficulty.
Other than classes, the art festival held in October was the most impressive thing in the school. Many students participate in the festival in many ways: exhibitions, performances, flea markets, etc. All the things in the festival were organized by students and for them. I could feel that their youth was overflowing on the whole campus.
As well as the school, I am really enjoying living in Tokyo. It takes about an hour from the dormitory to the downtown of Tokyo. I usually go out on holiday, visit some places: Shinjuku, Shibuya, Roppongi, Ueno, etc. Actually, I had been to Tokyo eight times before I come to study in here, but there are still lots of wonderful spots to go. You can see dense buildings somewhere, but also quiet and peaceful streets somewhere. I am very happy that I can see these various faces of Tokyo.
I am sure all these experiences in here are precious and meaningful for me.
André Freiha
Köln International School of Design Accepted: Department of Industrial, Interior and Craft Design September 2019 to January 2020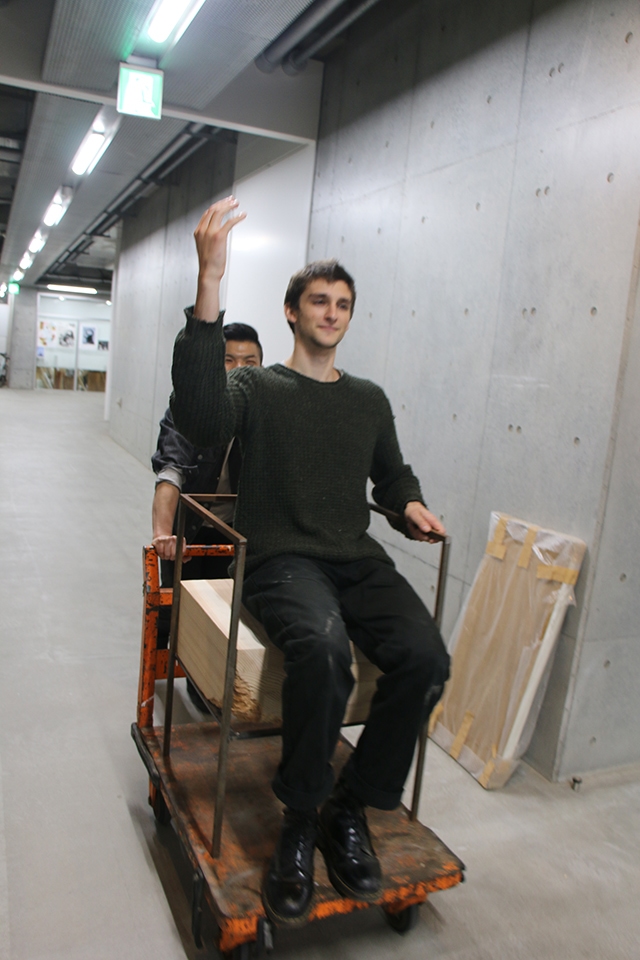 I am in my third year of studying Integrated Design at the Köln International School of Design. Coming to Japan in order to study woodwork has been a long-time dream of mine, though seeing it actually coming true has been a surreal experience and I am really thankful for getting the chance to be here.
It has almost been two months now since my arrival in Japan, yet it actually feels as if I have been here for quite long already. I think that is mostly due to the warm welcome I received from the people of my department. Although the deadlines for projects can be tight, and the work is sometimes stressful, my classmates have always been patient with me if I did not understand something and helped me with learning Japanese on numerous occasions. It did not take long for me to not feel like an outsider anymore but like an actual member of the class (who is just slightly conversationally incompetent).
Already through the first project, I have learned so much: From operating new machinery and hand tools to designing and model-making techniques. So I am curious to see what the rest of the semester will have in store.
As for the language, I would highly recommend learning as much Japanese as possible before coming to Japan, as this makes communication and meeting new people a whole lot easier and might also open a lot of doors for oneself.
Up until now, I have been staying in the Musabi-student dorm, which is about 10 minutes by bike away from the campus. It is definitely a good choice since it is so near to the campus and you also get a free bicycle for the time of your stay. Contrary to the downtown area of Tokyo, the area surrounding the dorm is very calm, almost rural, with small shops and diners, small fields, and a lot of greenery. Still, catching a train to the more central districts is very convenient, since there are a number of stations to choose from.
So far every day has been interesting, and I have made a lot of new friends, not only with the other exchange students but with Musabi-students as well. There are many interesting places to visit in Tokyo and a lot of ways to have a good time with your friends on the weekend.
Emma Doty
Pratt Institute Accepted: Department of Imaging Arts and Sciences September 2019 to January 2020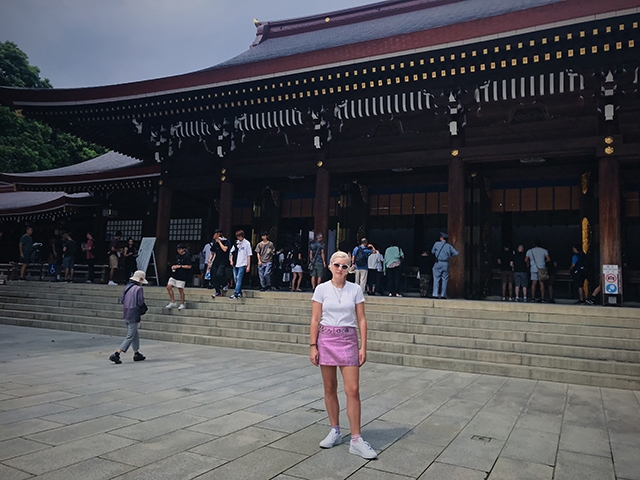 Hello! My name is Emma Blaise Doty, and I am a third year 2D animation student from Pratt Institute, in Brooklyn, NY. At Musabi I am studying animation under the Imaging Arts and Sciences department. I wanted to study at Musabi to learn new techniques and other styles of animation, but I mostly wanted to come here to experience life in Japan and gain new perspective. I have been in Japan for a little over 2 months now, when writing this. It has been a rollercoaster of emotions and a bundle of different experiences.
My main point of advice for anyone planning to study here is to learn Japanese as much as possible before you arrive! I only can speak English, and so far that has been my biggest struggle. There are a decent amount of English speaking students at Musabi, but you really have to seek them out. Not being able to read, speak or write the language around you, is a real handicap, so be prepared for that! If you plan on staying in the dorm the rooms are very nice, you have your own private bath and kitchen area, so no need to worry about that. The dorm is a little haunted though.
I would say your experience here really varies on your department as well. It depends on what you are accustom to at your home campus. Most animation students at Musabi seem to work at home, due to there not being proper studio space. Which for me, at Pratt we have the opposite. I don't think this is a problem for other majors though, so like I said it varies. Your experience here is 100% what you make of it. I wouldn't plan on growing in large amounts technically as an artist during your time here, but growing as an artist within yourself and your own abilities. Being in a foreign environment and shoved completely out of your comfort zone will promote growth within you no matter what. I have struggled here, but also have had so much fun during my time at Musabi. Going out and exploring this new land, meeting people with experiences different from my own and learning so many new things about myself as well, have all been so amazing. Your experience depends on you and what you want to do with your time here! Everyone here is very kind and accommodating as well and will be more than willing to help you with anything! Good luck to everyone that plans to apply! I encourage you to follow your highest excitement, with that you will never be lost.
Amber Lim
Pratt Institute Accepted: Department of Science of Design September 2019 to January 2020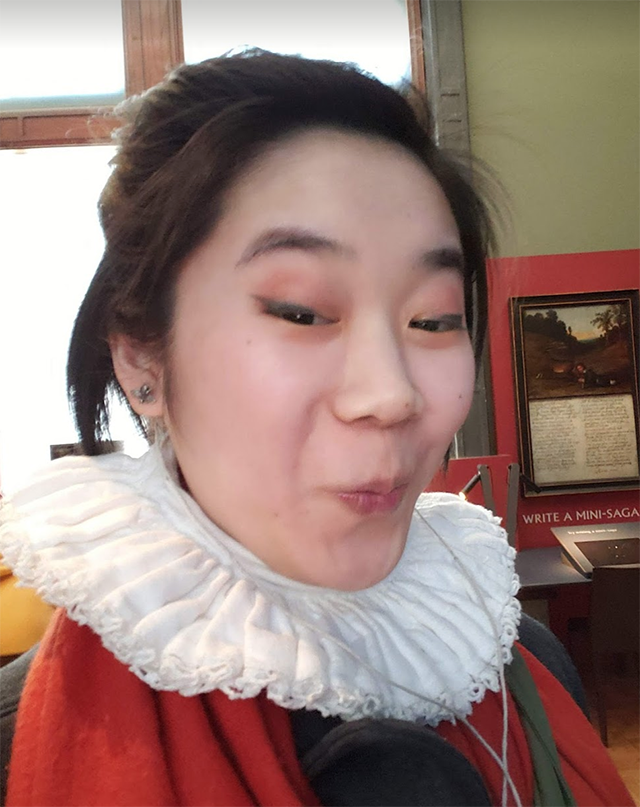 I'm Amber, and I'm a Communications Design major at Pratt Institute with a concentration in Graphic Design, and during my time at MAU, a Science of Design student.
I chose to do an exchange semester in Tokyo because I have admired Japanese design thinking, specifically in package design since forever ago, and this was an opportunity for me to learn first-hand from Japanese designers and evolve my still budding creative voice. Being in such a vastly different culture—especially in terms of language and values—was also a challenge to reconsider definitions, my societal role, and life.
I was lucky to have friendly student buddies, and I don't know what I would've done without their help. I was lucky also to have made friendships that I think will still live on for a decent amount of time after leaving Musabi, haha.
The MAU dormitory I lived in was around 10 minutes away from campus by bike. The room was a nice little space with a bathtub, and the nice thing about these dorms is that you can borrow basic cleaning supplies, so you don't have to spend money on those. Sometimes the dorm manager puts out free snacks (one time it was rice crackers, and another time it was a bucket of tiny oranges). I fell off the bike once, and they were very nice and bought me bottled green tea and tended to my wound despite my insistence that I could do it myself. The RA was very helpful and nice too.
The city area of Tokyo as foreigners know it is quite a distance away from campus, but it makes biking around places virtually stress-free. As with any big city, there are always events going on, especially creative events, so as long as we plan ahead, trips to the city can be cost-effective and productive. Musabi student cards also grant us free or discounted access to a lot of big museums and exhibitions in Tokyo.
The library here is amazing. The library features that made an impression on me what are essentially mini cinema booths and individual desks with separation panels in between, so you have your own personal space.
The food here is great. There's also a lot of opportunities for free food, be it events in the city or on campus.
Also, stock up on them MUJI pens while you're here.
Nina Bruchhaus
University of Arts Berlin Accepted: Department of Japanese Painting September 2019 to January 2020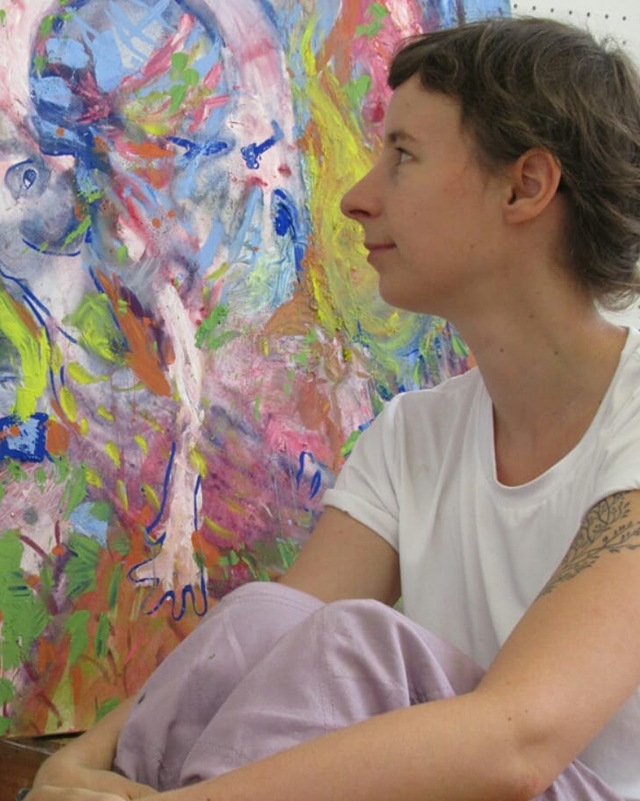 On a windy island with a shaking ground: essay about my student exchange to Musashino Art University
In my home university, the University of the Fine Arts in Berlin in Germany, I study fine arts with a focus on painting. The techniques I learned and tried out by myself over the last years are usually combined in one painting. They are, for example, ink, oil paint, egg tempera, acrylics and pastel chalks on canvas or linen. In the last month, I also experimented a lot with different kinds of paper. To work with ceramics became common practice for me as well. In MAU, I join the Japanese painting (nihonga) department. I had already one three-week workshop in the beginning about the self-portrait on silk. In two other lectures, the teachers explained some of the basic techniques in Japanese painting to me. Now I experiment around with the new materials in my own studio. Also, I took part in another three weeks workshop about ceramics in the design department.
To MAU and Japan, I wanted to come because of its totally different art history and style of painting and drawing. The Japanese ink and the "nihonga" Japanese painting materials are unique and new for me. I love it to experiment around with it and add it to the techniques I knew before to create something new. Also, different brushes are used. In the next week, a course about the brushes will start, and we will make one by ourselves. I am looking very much forward to this. Of course, also all the different and very beautiful washi papers are of my interest where Japans is famous for too.
I did not have very clear expectations except for the language course I am now taking as well as the techniques I wanted to learn. However, the structure of the classes varies very much from my home university, where we work almost only on our own; I liked the structure of the three-week workshops. It is a very intense time to get to know the techniques very well and also to work next to Japanese students for a while. I enjoyed all the interesting conversations we had during the time of the classes.
I am in love with my studio. I share it with three other international students from China and Taiwan. The room is big, it has a very good light, and the atmosphere is relaxed and productive. Two times a week, different professors always come to give advice. That is very helpful. And if we cannot communicate so well, one of the other students in the studio will come to translate for us, which is very kind. The MAU dormitory is okay. The small room is clean and has everything you need in a single apartment. The house personal is friendly, and I felt safe during the crazy weather (tropical cyclone) outside.
Life in Tokyo can be busy if you come closer to the city center, which is one and a half hours away from the dorm by train. In the area around the University and the dorm, it is quiet. It almost feels like village life there, which I enjoy a lot. I love it to ride the bike to the University. Within ten minutes, I arrive. Japan's delicious food and the historical sides like Buddhist temples and Shinto shrines are two things I cannot get enough of. I am very thankful and happy about all the new inspirations for my paintings the Japanese culture can give me. I am very curious about their ancestor Shinto religion and started to read and research about it since I arrived here. There are many traditional festivals which are held during the year are a great source of inspiration for me. I could already experience three of them. The spiritual practices and the design of their clothes, flags and masks are beautiful and inspiring as well as the music and dances.
Morgane Ely
École nationale supérieure des Beaux-Arts Accepted: Department of Painting (printmaking course) April 2019 to July 2019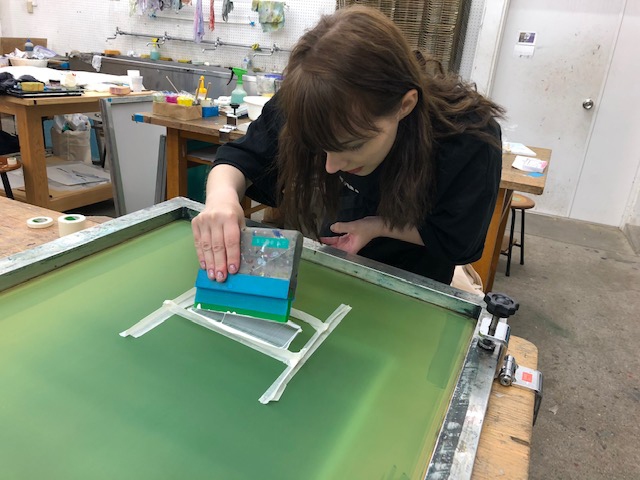 I'm in my fourth year at Beaux-arts de Paris, where I study traditional printing techniques (silkscreen, offset, and lithography). I chose to do my exchange at Musashino Art University in the printmaking course to learn new techniques and become better in the ones that I already know. I also believe that I really needed renewal in my work.
When I arrived at school, I received a very warm welcome; first in the dormitory, then at school and the most importantly in the printmaking course. The students are very friendly, and the teachers are wonderful. I always received the help I needed and much more. I have never felt left out despite the language barrier. My teacher introduced me to students who spoke good English. They have been very supportive during the courses and evaluations. Now they are very good friends. I chose to live in the dormitory during my stay. It is located 15 minutes from school by bike. It is a really pleasant and family place. I felt very comfortable there.
The printmaking course is divided into several three-week workshops (wood, silkscreen and lithography). In the first week, we study the technique, and the other times we are free to practice it. I had a lot of time for my personal work, and I was able to learn a lot about the different techniques. In addition to the courses, several speakers and artists give small workshops to deepen the classes.
Although I studied some of these techniques in my school in Paris, the way of teaching in Japan is so different that it allowed me to complement what I already knew. This also gave me a new perspective on my work. This is what I was looking for when I came to Japan, and I am not disappointed at all.
The school and dormitory are located one hour from Tokyo by train. I could easily visit the city in the spare time, despite the intensity of my work, but I would have liked to live there to soak up this extraordinary place more.
I'm really satisfied with my exchange at Musashino. It has been a significant upheaval in my life. I really recommend it for anyone who wants to have an intense and rewarding experience.
Lena Wild
University of Arts Berlin Accepted: Department of Architecture April 2019 to July 2019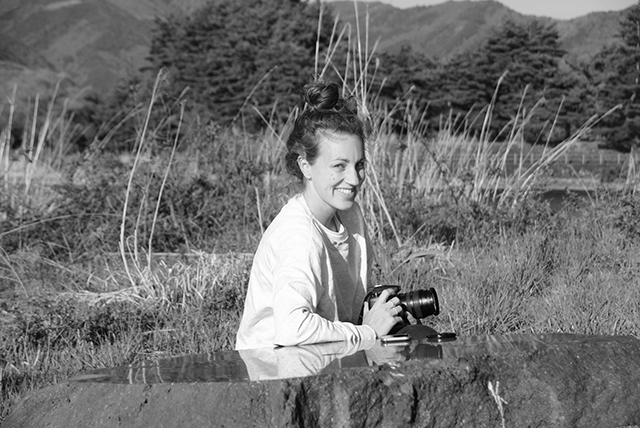 Even after almost three months have passed, I'm still daily impressed by all these beautiful, special and unusual details on every corner in Tokyo. So many things generate this city to a very unique place –the natural places, the architecture, the food, the well organised public train system, the calmness of the people and the pachinko halls on the other side and many more. In my free time, I just cycle or walk through the city center and discover as much as I can, and this seems to be endless. Furthermore, there is stunning nature all over Japan and some of these beautiful spots are not far from Tokyo. You can easily do beautiful day trips from here.
One reason why I wanted to come to Japan was the architecture, but the other one was the culture and the country itself. Therefore, the exchange programme seemed to be the perfect occasion.
The university is different from the UdK in Berlin. One main aspect is that there is only one campus, which makes it much easier to get an insight into the other departments. This was one reason why I got the possibility to take classes from the Department of Science of Design, besides my architectural studio class. The topic of my architectural design was a very poetic one, and we made a lot of field trips to beautiful nature spots. In general, I was lucky to get into classes with English speaking professors, which makes it much easier (as long as you don't speak Japanese well, what I don't do, either.) Everyone was very helpful and understanding from the beginning. Although the language barrier doesn't make communication that easy, all the professors and students are patient and helpful all the time.
The campus areal is an amazing spot—besides a museum, you will find the great library designed by Soh Fujimoto, which is equipped with an incredible collection of books of art, architecture, and design as well as magazines. In good weather conditions, you can see Mount Fuji from one of the buildings there.
When I first came here, the cherry blossom season just started and appeared it even more beautiful. In general, everything is pretty well organised and well prepared for the exchange students, and there is always time and space for further enquiry.
There is the option to stay in the dormitory, which is fully equipped and just 10 minutes by bike from the campus. There are some rules that you have to get used to, but especially for the beginning, it was helpful and convenient to stay there. The area around the dorm and the University is a quiet neighbourhood and a bit far from the city center (around 1 hour), which is one of the reasons why I wanted to move closer to the center at one point. I would anyhow recommend taking as much experience from the city as you can.
Living here for a couple of months is a unique and precious experience for me. The whole life and way of thinking are very different to the ones I'm used to. The longer I'm here, the more I enjoy it. The sensitive and respectful way linked to old traditions and modern technologies is very inspiring and interesting.
Lara Nelke
University of Arts Berlin Accepted: Department of Scenography, Display and Fashion April 2019 to July 2019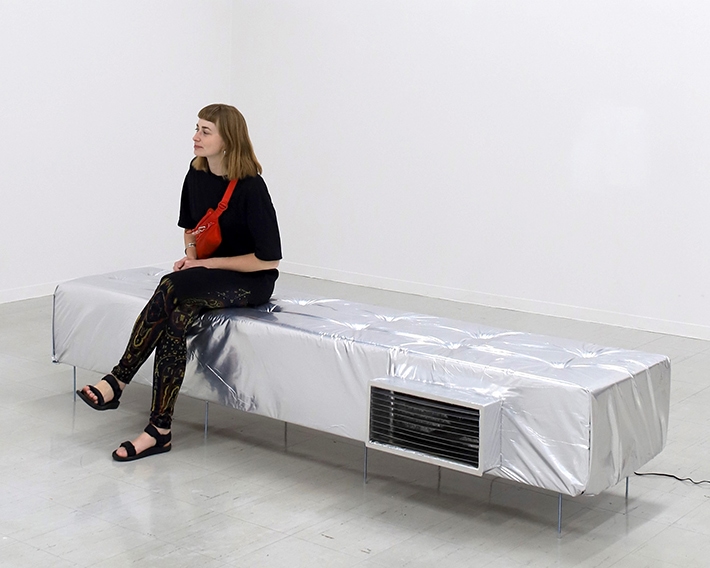 Writing this report, I was thinking about visual images to compare my experience here at Musabi and in Tokyo. In my head there are two: A citizen in a global village and a satellite in a distant galaxy. I was always interchanging in between those two states. Anyway, having the possibility to study at Musabi and live in Japan was the best opportunity ever. The exchange semester at Musabi developed my personal art and design practice enormously. A new cultural viewpoint helps to relocate your own.
I study Visual Communication with a focus on Exhibition and Spatial Design at Universität der Künste Berlin. What I strongly notice in design teaching at Musabi, is that emotion and rationality are not strictly separated but tend to be more open borders. In European thinking, often a strict distinction is made between them.
In the courses of Environmental Design, I learned a new perspective on the design approach. Compared to my homeschool, the way of working here is a lot more about actually creating things rather than discussing a topic. Thinking about material properties, natural phenomena like wind or water and—most importantly—how would people perceive the artwork?
During my studies, I attended an open seminar and different workshop formats, which had a playful approach. I shared the fascination with my fellow students for even the smallest things like a single water drop creating a tender texture on a surface. This way of intense studying and contemplating is a precious value, keeping for my own working process. While creating my artwork, I was given a lot of freedom and trust, which helped me following my intention.
I had very interesting discussions with other students and teachers, even though there is a certain language barrier—with nonverbal communication and even silence, you can almost tell everything. There were a lot of heartwarming moments; everyone is really helpful and kind to me. Lastly, I am very thankful for the tutor system Musabi has established for exchange students. The tutors always translated my intention or thoughts pretty exactly for the and solved a lot of communication struggle.
It was really an eye-opening experience, and I already miss studying here. This is definitely not the last time coming to Tokyo. Now the connection is made, I want to dive deeper into the Japanese art and design scene, collaborate and come back next year and the year after and the year after...
Whether you want it or not, Japan will change your way of perceiving things, even the ones you have always taken for granted. MAU will give you the best opportunity to express your ideas and get in contact with new, friendly and different people—both teachers and students.
Edoardo Guido
Polytechnic University of Milan Accepted: Department of Imaging Arts and Sciences April 2019 to July 2019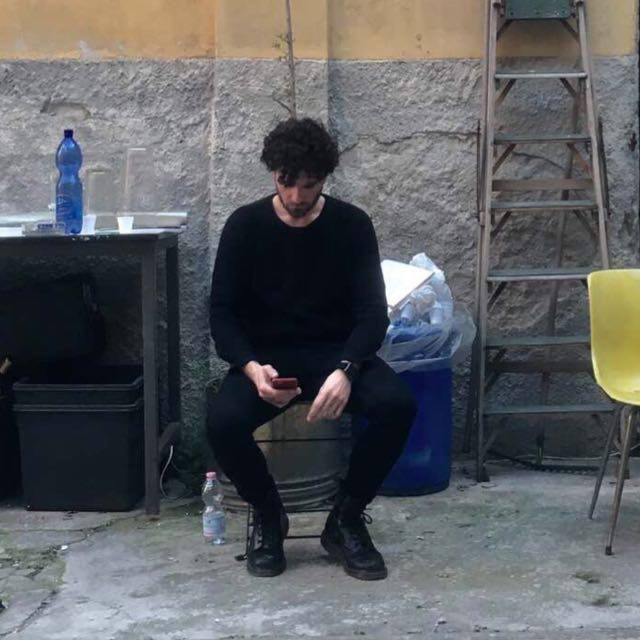 I chose Japan and MAU as a destination for my exchange based on my feelings, not my thoughts. I come from a university focused on designing for users. Therefore I have always been basing my designing process on the rational side of creating new things.
Coming to Japan has brought me in a totally different reality and forced me to rethink and reconsider aspects of life that I took for granted, back in Europe.
Moreover, at MAU I've had the opportunity to radically free my approach from the commercial constraints of design and expand my views, to broaden them and communicate with visual arts (I was placed in the Imaging Arts and Sciences department).
The courses I took here gave me the chance to expressing my thoughts and my ideas in a completely free way, with any means available. This has been difficult and incomprehensible at times, but it only made me capable of thinking without boundaries, of communicating on a deeper level using audio, video and physical interaction than what I have always been used to.
I totally recommend studying Japanese to get to a very basic level before coming here: to live in Japan is hard at times if you don't speak Japanese. This made me feel lonely and isolated at times, but as days passed, I noticed that people here are always there to give help in any way they can, even when they see you cannot speak their language, and this helps a lot.
Despite this initial barrier, living in Tokyo is a great opportunity to find many different realities into a bigger one since every area has its own lifestyle. Also, being able to travel around and explore such a different country is a unique opportunity. Japan is a true 'boule de neige'.
At the same time, to stay alone in some moments has been the best opportunity to grow up on many sides, to explore and discover. To travel alone, to pass an entire day alone wandering around through the streets of Tokyo, or simply to stay at one of the many tables of the beautiful library of MAU: all this teaches you to stay with yourself, to focus, to let your mind run free and to improve your dialogue with your own thoughts, or to get to brand new ones.