Jules Doriath
École nationale supérieure des Beaux-Arts Accepted: Department of Imaging Arts and Sciences September 2018 to January 2019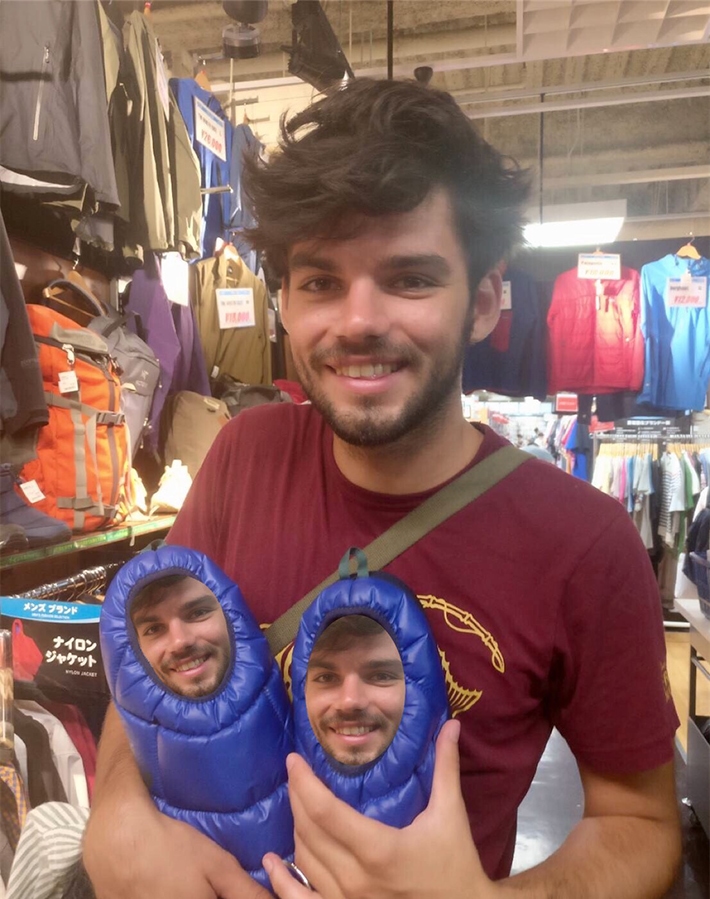 It has been a very long time since I started to think about coming to Japan and trying to live here for a while. The exchange programme of Musashino Art University was for me a wonderful way for entering in Japan with a precise purpose; something to create and something to accomplish. I was thinking from far away in my school in Paris that maybe Musabi, and also Japan, would have been a welcoming place to study abroad. I couldn't expect how much it was even more than I thought. Students, teachers, and tutors are all absolutely amazing people. They always help me, responding my deepest questions about this place and this country.
The school is incredibly huge and open minded. The course spectrum is so wide that you never stop meeting new students and discovering their artworks. In "Imaging Arts and Sciences", my department for this exchange, I was first a little bit scared an eventual gap of my practice and what I learned in my school in Paris and the works of Musabi Students here. Actually, there was one, but in a way, I couldn't expect. For me, students were so much clever about their techniques: building their own way of installing a piece of art, and more than everything else, surprising everybody on the way of showing their works. Oil painting students make videos, sculpture students paint, and videomaking students make installations. It was a wonderful experience to discover that.
The language barrier was never a problem, and this is what I like. When you really want to say or understand something, you find your own way of communicating. I could study the Japanese language more than ever, just by listening to other people speaking. If I had any advice to give to anyone who will study in Musabi, that would be joining the Contextual Studies class. You will meet people very different people from your own department first, as well as thinking exercises, discussions and group projects. I guess that you are obligated to make friends there. I met really amazing friends in the Contextual Studies that made, as far as I am now, my exchange a real pleasure on every level.
Tokyo is a wonderful city. I did notice it when I came here for the first time, but actually living here is way more different. From the day I got a bike, I couldn't stop exploring the streets, hidden districts, and shops, by randomly cycling.
Tokyo is an incredible city for an exchange; you can find any way to enjoy it by exploring, eating, partying, etc.. Now I just realized I couldn't choose any better for an exchange programme.
Aino Vaarno
Aalto University Accepted: Department of Industrial, Interior and Craft Design September 2018 to January 2019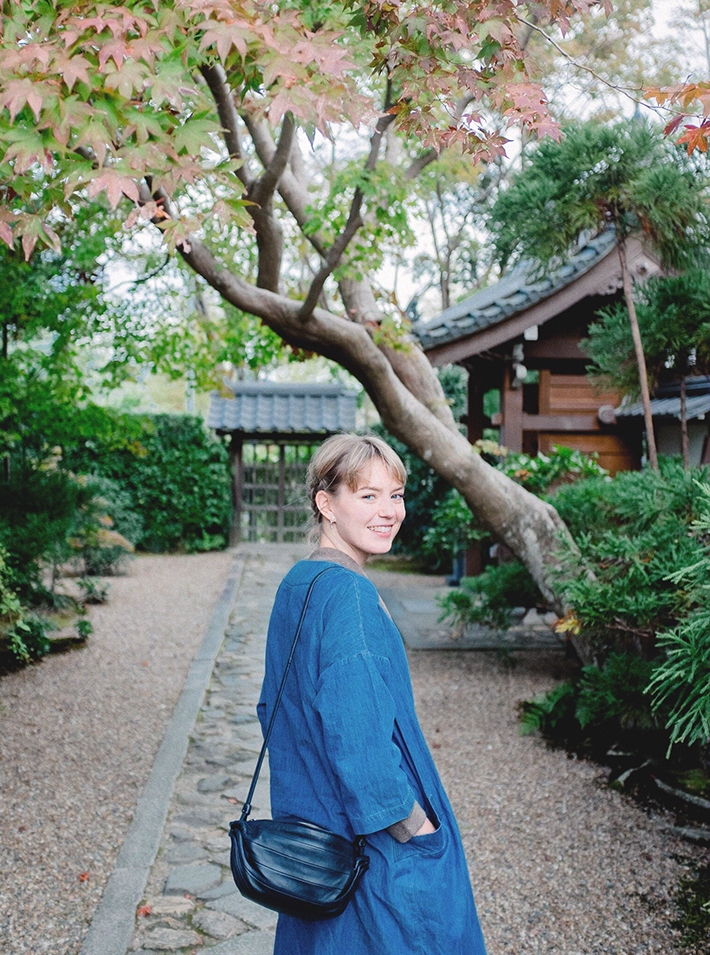 I'm from Finland, and my homeschool is Aalto University. There I major in Design, which is a rather broad program. I felt that ceramics had been the most interesting subject for me, but I wanted to focus on it to learn more and see if it's something that I actually want to do in the future. As I've been much intrigued by Japanese culture, arts and especially ceramics, and they've inspired me loads, I thought that Japan would be the best destination for my exchange.
So, that's why I came to MAU. Here I study ceramics in the Department of Industrial, Interior and Craft Design, and I've also taken courses from Interior Design.
The courses available at MAU are really interesting (and that's why at first I took too much on the plate and ended up way too busy, so be careful). My studies here have been quite similar to Aalto, but I feel that in MAU there is more time reserved for the process of creating and it's all in all more in-depth than in my previous studies. I believe studying at MAU has made me change my process of designing and thinking. The subjects of the courses have also taught me a lot about Japanese culture, which I have truly enjoyed.
The staff is great, and I've had good luck as my professors speak English well. The assistants and fellow students are so helpful and friendly, and I can't even imagine how I would have survived without them. There is definitely a language barrier because my Japanese is on a basic level, but somehow everything always works out.
I lived the first month of my stay in the dormitory and then moved into my own apartment closer to the center. The dorm staffs are super nice and helpful, and they made coming to Japan a soft landing. School is just a short bike ride away, and everything needed for the living is close. I can say that staying at the dorm was in a way easier than living independently, but I felt that I needed to see Tokyo and "real life" more.
Living in Tokyo, commuting with the thousands and thousands of people, learning how to do everyday basic things in a new language and getting immersed with the culture and food etc. has been an amazing (and tough) experience. Tokyo seems to be endless, filled with diverse cities and areas. Every day I see something I've never seen before, and it's really inspiring. I've never stepped out of my comfort zone like this before, and feel that it has been profound for me. Studying at MAU and living alone in a strange land has taught me a lot, also a lot about myself.
Winnie Liu
Pratt Institute Accepted: Department of Painting (printmaking course) September 2018 to January 2019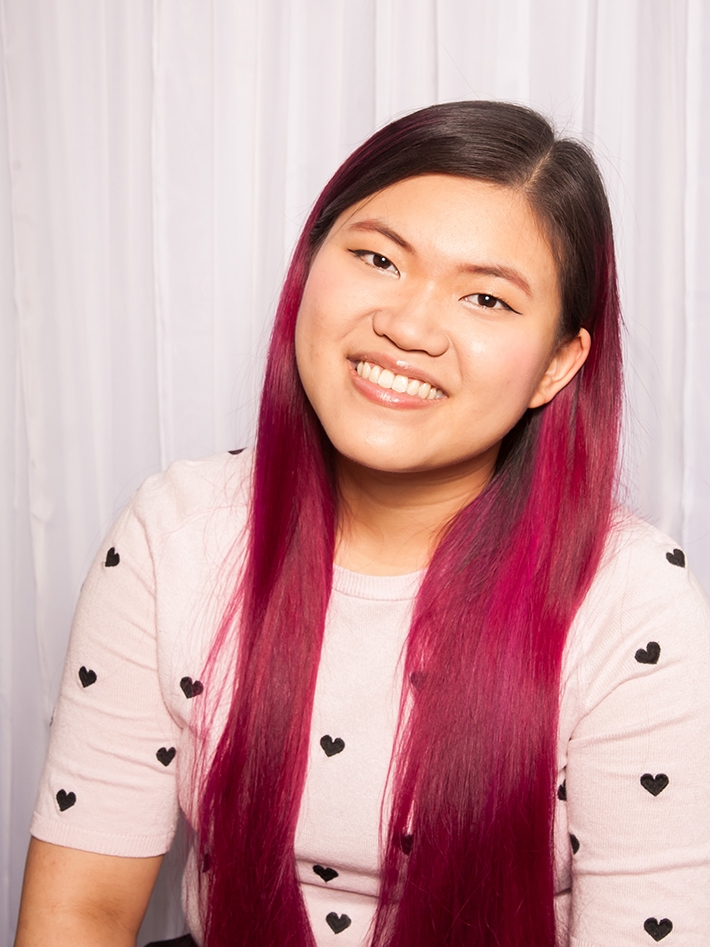 Hello! I'm Winnie, a Communications Design (Illustration) major from Pratt Institute in New York.
Japanese culture has always had a deep influence on me, especially on my creative work. To finally come and study at Musabi was a dream come true, to say the least. My studies here went on a very different trajectory than they would have back home—for the first time in years, I stepped away from my marriage to the computer screen and did everything by hand. No matter what major or department you end up studying at Musabi, it will likely be very different than what you're used to back home, whether it's the process, content, people, language, or all of the above. Embrace this. If you feel uncomfortable at times, then all is going well. This is how you will grow.
What I realized quickly is that you will learn just as much outside of the classroom as you will in it. The expanse and diversity of Tokyo is endless—find time outside of your studies to immerse yourself in it. Dine at a random cafe with questionable coffee or follow the locals if you see an inexplicably long restaurant queue on a weekday afternoon. Get lost in a sea of people in the city center or go down hidden alleyways leading to a serene temple. Talk to as many people in your best-worst Japanese as you can or don't talk to anyone at all as you try to discern the countless multitude of lives that pass you. Do all of this. Just go explore and see where Japan takes you; there are beautiful extremes waiting to be found at every corner, and this experience of a new school, city, country, language, culture, and more, will affect each person uniquely.
Paradoxically, my journey here at Musabi and Tokyo was both exactly and also not at all how I imagined it would be like. More than any other period of my life so far, I felt that time slipped through my fingers and I couldn't fully absorb everything I was taking in during the moment—but maybe that's okay! This was a once-in-a-lifetime experience, and I urge everyone that is able to study abroad to do so, especially at Musabi. The impact has been invaluable and the memories unforgettable. I can't wait to come back someday!
Sophia Dorfsman
Pratt Institute Accepted: Department of Science of Design September 2018 to January 2019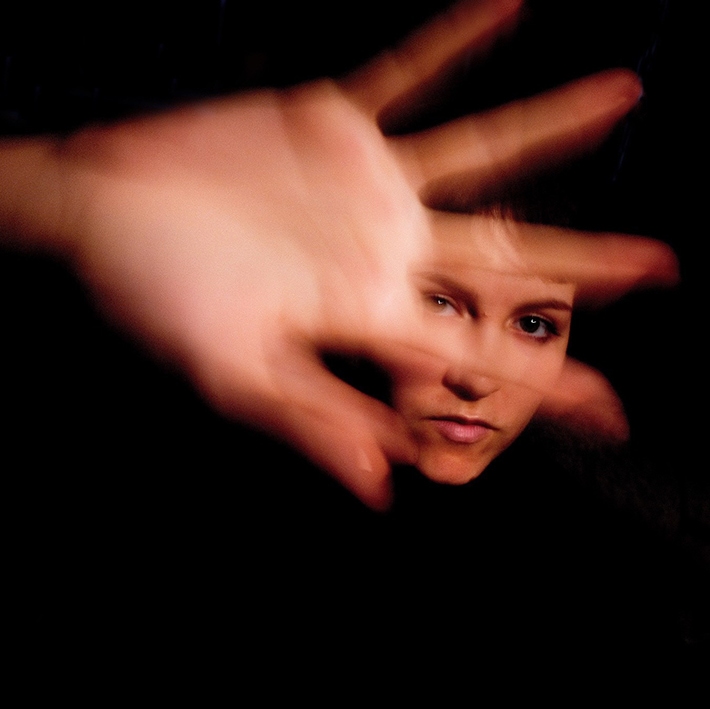 Studying abroad in Japan has been surreal since the start. I came to Japan with a great admiration for the narrow, Americanized view of its culture, lifestyle, history, and language. Thus, it was very unknown to me.
I recognized the potential to immensely grow from the challenge of learning new ways to communicate in such a foreign land that I had never been to before. As someone studying communication design, that really excited me. I was ecstatic about the idea of going somewhere very different, very unfamiliar, very far, farther than I've ever been before. It feels a bit like the gap year I never did but always wanted—except much better because I was grounded to and supported by MAU.
I was placed in the Science of Design department at MAU. My class schedule allowed me to spend a lot of time exploring Tokyo and my greater surroundings. The dorm is located in a pretty rural area that is sort of far from the city center and has a curfew, so I'm glad my classes didn't occupy too many hours of the week—giving me the chance to travel around and go out and about. To prospective students—I recommend you get some beginner level Japanese down before arrival and download some good translation apps because the once-a-week-Japanese-class won't get you too far. You can get by with the basics but that is hard for 4 months and English isn't as prevalent as you may expect.
So far, my time in Japan has influenced me more as a human than a university student or designer. I've learned much more from the experience of living in Japan than being a student at MAU. It has been a time of being very isolated, of standing out, of feeling uncomfortable—but that's not to say it hasn't been beneficial nor enjoyable. This exchange—the culture shock, change of pace, and totally new environment—has allowed me to grow in ways that I needed to, ways that an intense and much more demanding semester at Pratt would not have allowed. These experiences may not directly nor immediately translate into my design work, but they have given me a new awareness, appreciation, and perspective on life that will influence the work I do going forward.
Jennifer Woelki
Universität der Künste Berlin Accepted: Department of Japanese Painting September 2018 to January 2019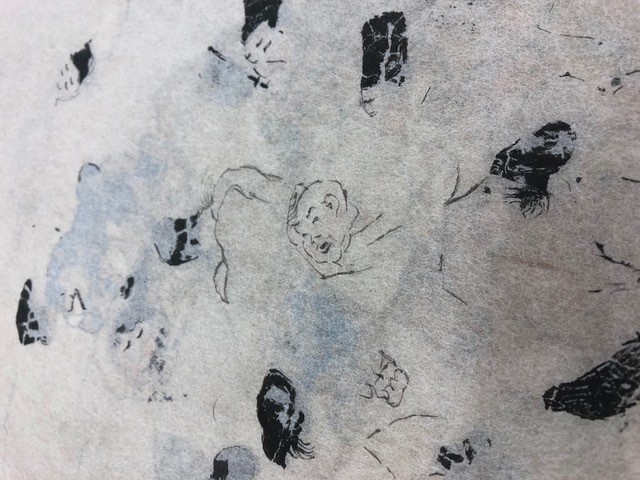 I study Fine Art in the fourth year. My focus is painting and conceptual art, and I wanted to float around in a totally new country to soak up new inspiration.
Language and writing in art interests me the most, so the exchange semester in Japan seemed to be the most attractive option for me, because of its calligraphy.
I'm impressed by how much I've learnt in two months. This is what strikes me the most now, while I'm writing this text by looking back on what happened within this time.
Although the Musashino Art University accepted me, I had worries to stand the journey to Japan, because I could speak just a few words Japanese and have never been before in this country.
On the first day, my worries were taken away: our contact people have given us the best introduction to know the university's structure as well as all buildings so that I felt reassured directly. The days after that, I got to know the professors in a small circle and talked with them with lots of patience about my classes, so that they could accommodate my wishes I depicted in the motivation letter before. You will feel in good hands, I promise!
The following classes give me calmness. You work on just one project for a certain amount of time (e.g. four weeks) till the next project comes, which is very different from our university schedule.
I began to feel more focused on my work and started again reading a lot. Thereby, I have to emphasize how overwhelming the library of the university is – I could stay there for days.
After each project - for example, "ink drawing" – I was looking forward to the feedback the professors gave me and learned a lot about the differences in western and Asian art.
Now, I can say that I get inspirited immensely, get to know fascinating Japanese people who give me an understanding of their culture, see numerous museums, and enjoy the Musashino Art University feast. I realize that all expectations on the university were exceeded.
Ymane Chabi-Gara
École nationale supérieure des Beaux-Arts Accepted: Department of Japanese Painting April to July 2018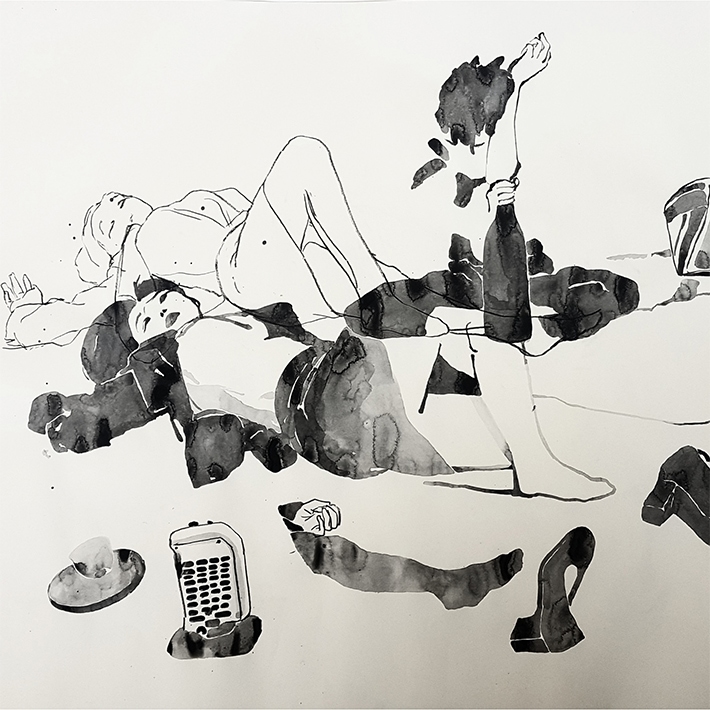 I am a fourth year painting student from Beaux-Arts de Paris, in France.
I came to Musabi to study traditional painting and wood printmaking techniques. Having reached a point where I felt a bit bored and tired of my own artistic works, I wanted to challenge myself and see how learning ancient techniques, albeit completely new to me, would refresh my practice as a painter.
What I found at Musabi exceeded my expectations: the classes here are articulated around modules that last a few weeks each and give an in-depth introduction to each technique. I learned how to make my colors from scratch, how to prepare the paper I would paint on, explored the world of ink painting. The pace can be hectic, but this is an opportunity to learn a wide range of things in record time.
Through these modules, I also got to learn more about Japanese culture and mentality. For example, during one of the courses, we had Butoh performers posing for us. They moved their bodies in ways I had never seen before. They also explained the meaning behind what they were doing. It sparked a vivid interest in this form of dance/theater in me, and I already know that it will have a lasting effect on how I see the world.
Another thing that I like about Musabi is the fact that I am completely immersed in the Japanese language. After having studied it on my own for years, I had neglected the oral part. Being in an environment where I have to express myself and be understood by the students and teachers forced me to get out of my shell and try. I am learning new words and sentence structures every day.
Tokyo is a fantastic city to explore while studying here. The school dormitory is not too far from the center of this bubbling, fascinating city. The fantastic alternative music scene and art exhibitions, but also the traditional festivals and temples at every corner make this place a never-ending source of inspiration.
I am really happy to study here, and I encourage everyone to come to Musabi.
Sini Henttu
Aalto University Accepted: Department of Industrial, Interior and Craft Design April to July 2018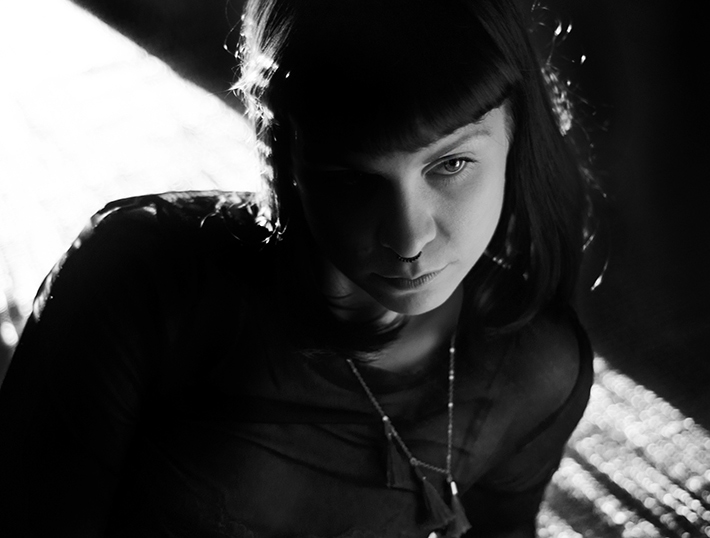 Hi there, my name is Sini. I am based in Helsinki and study Design at Aalto University.
In Aalto University I felt a bit lost in my studies, and I did not know which way I want to go as a designer. So it was a really good idea to go abroad for exchange studies and step out from my comfort zone and start to find out who I am as a person and also as a designer. I think that exchange studies are a great way to find out who you truly are. When one is far away from home and friends, and you suddenly need to break your daily routine, you start to think differently about life. You begin to notice what you really like and what gives you satisfaction. Also, on the other hand, you will see what you do not want and what is unnecessary in your life.
Musabi has thought me a great deal. I am studying glass at the Department of Industrial, Interior and Craft Design and Media Art at the Department of Imaging Arts and Sciences. I am now in the middle of my exchange studies, and I already feel that I have learned more than I could have wished for. Quality of the teaching is outstanding here. Everything begins from scratch, so it teaches you a lot about the materials and techniques. I have also felt that the teaching methods here are a bit different from my homeschool Aalto, so it has richened my way of thinking during the work process.
I can speak Japanese only in a basic level, and the language barrier can be frustrating on some days. However, usually, it does not matter when everyone is so kind and willing to help when you have something to ask.
So far it has been inspirational to live in Tokyo. I love my apartment in Koenji and the campus in Musabi. I have met so many talented and kind people, and my mind is full of ideas. I have realized that the real happiness can be found outside from the comfort zone, and also I think that I know myself so much better now. I feel really lucky that life threw me to this adventure called Japan.
Mi Jeong Cho
Hongik University Accepted: Department of Imaging Arts and Sciences April to July 2018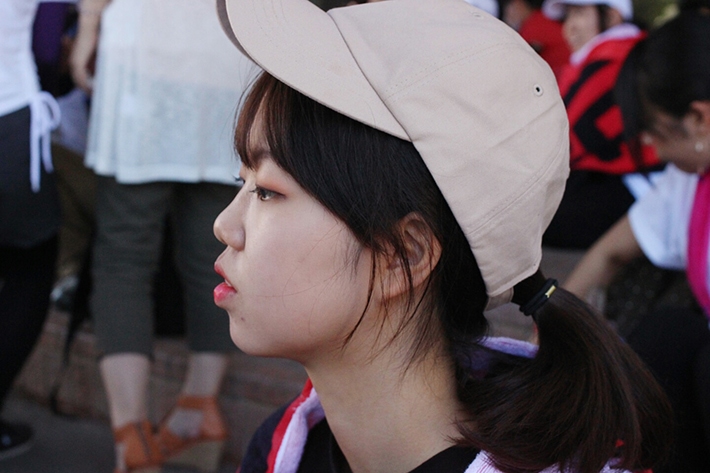 I was planning to graduate without taking any leave of absence from Hongik University, but when I learned that there was a major (specifically Imaging Arts and Sciences major) that provides video courses, which I am studying, I applied for the opportunity to become an exchange student. Arriving with mixed feelings, I was relieved to feel the warmth and kindness of people of Japan, starting from the dormitory. I was surprised by the atmosphere, where they took individual care of each resident here. I was not used to this, being completely different from South Korean dormitories, but because of it, I was able to adjust well to my new environment and surroundings. Apart from the dormitory, MAU has helped me in many ways: planning my course schedule, introducing me to Korean classmates, and treating me with kindness. I think because of all this, I was able to lighten any worries that came from experiencing everything for the first time.
All of the classes were conducted in Japanese and utilized programs I had never used before, so I was lost from time to time, but I am in glee as there were many things I have gained from this experience. Beginning of the semester, many worries have crossed my mind. But as of now, I am studying with the goal of finishing my semester properly. Now that I looked back--as I pass the middle of the semester--I am glad that I came here to MAU.
Charlotte Hornung
Universität der Künste Berlin Accepted: Department of Painting (Printmaking Course) April to July 2018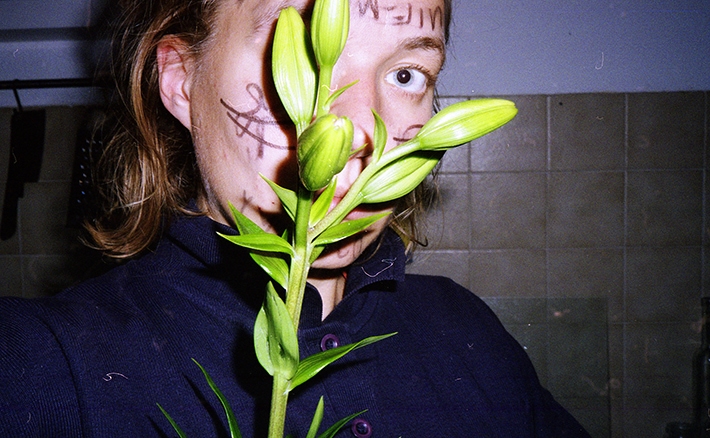 Tokyo for living.
When I arrived in Japan, it was right before the Sakura season. The ground was covered with white cherry blossom as if it was snow. Now, the rainy season has begun. I love the reflection of different lights in the puddles during the night. Tokyo changes a lot throughout the year.
Even after being in Japan for four months, many things present a mystery to me. I love to stay on the streets to observe and talk with the people. The urban area of Tokyo seems endless. The diversity of live surprises me every day. Often my day ends somewhere unexpected, and I have seen and learnt many new and abstract things.
My life and studies at Musashino Art University are a perfect addition to my design studies in Berlin. I changed to the fine arts departments, focusing deeply on printmaking. There is no use for the computer, and every step is done manually. With the Japanese calmness and patience, I am printing during the day. I often take a break at a small place, from where you can see the Mount Fuji. In the evening after washing the ink from my hands, I drive back home with the subway and am confronted endlessly with lights, people, smartphones, advertisements, speaker announcements, rushing cars and noise. My life in Tokyo turns from one extreme to another.
That is what made me come here. I do not miss Berlin. It is good to be abroad. It is good to see and feel how differently people deal with their own lives in such a big city. It is interesting to slowly get to know personal joys and worries of people around me, to see how they struggle and make it up again. My works got more experimental and at the same time more specific. I have learnt a lot, and I want to come back.
Claudia Tranti
Polytechnic University of Milan Accepted: Department of Visual Communication Design April to July 2018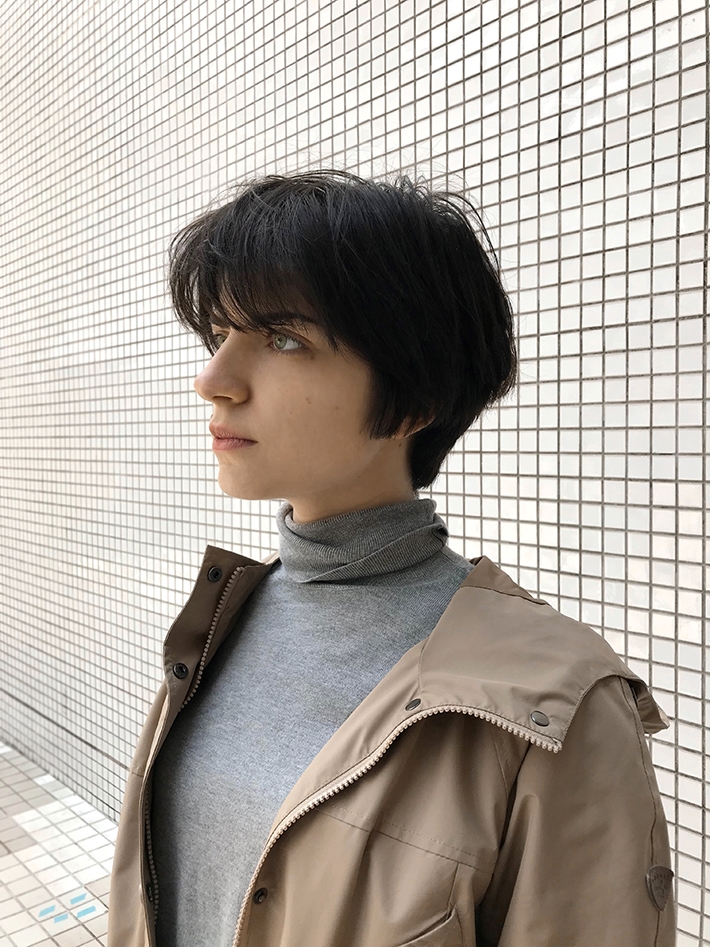 I am Claudia from Politecnico di Milano, Italy.
At my home university, I am a master student in the Communication Design degree, and here I am in the Visual Communication department.
Here at Musabi, I am focusing on the artistic side of design: that is why I chose to attend illustration class and typography class, in which we also study calligraphy. I find it useful because I have the chance to practice and to discover new techniques. The teachers are really friendly and willing to help, and so are the fellow students.
I also attend the Interactive Innovation class and the International Design class: in both cases, I found an interesting environment, in which we exchange ideas and opinions between Japanese and foreign students. Thanks to the teachers' help we can create new projects that we enjoy and learn something new and interesting.
The MAU dorm is really comfortable, I feel like I have all the facilities I need just in my room! The dorm-keepers are very friendly and kind, they always help me when I need it. Even if we cannot speak the same language! All the useful shops for everyday life are located around the dorm so that I never run out of food or other essential products – and it only takes 15 minutes to reach the Campus by bike.
Life in Tokyo is exciting: the temples, the shops, the parks and the streets are very interesting to visit. Everything is really different from my home country: that's why I find the international exchange a really important experience for my life. I would recommend my friends to come here because it is an opportunity to change the way we see the World, but also a chance to grow up and go out of the comfort zone.
When I first arrived at MAU at the end of March, the cherry blossoms were still in full bloom. My adventure has started in an unknown place with unfamiliar people and now, it is already heading towards the second half of the semester.
Nicolas Attolico
Polytechnic University of Milan Accepted: Department of Science of Design April to July 2018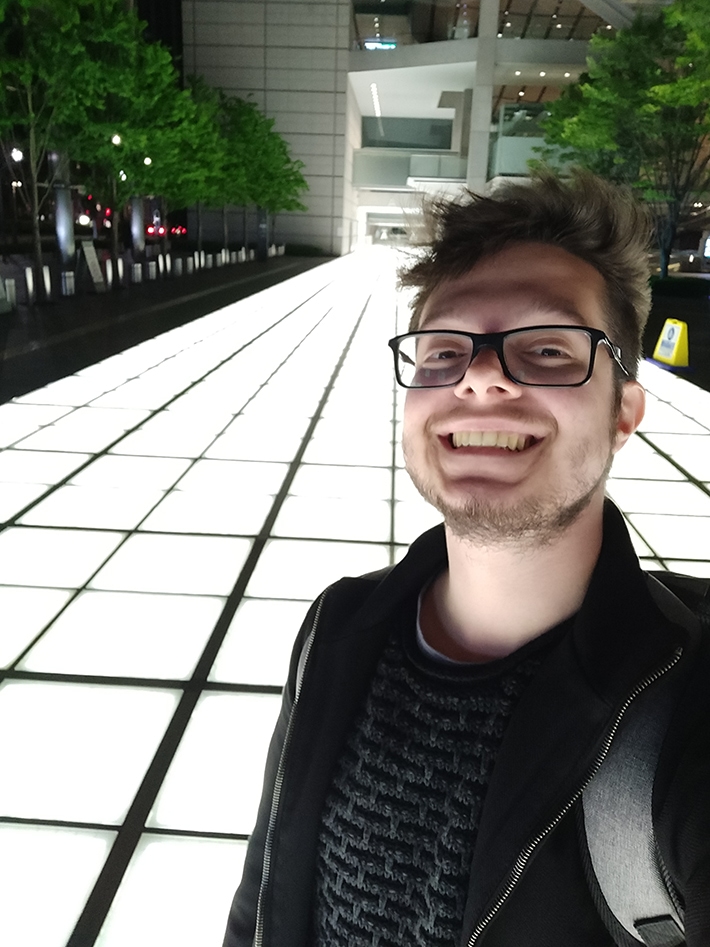 Greetings!
I am Nicolas, Communication Designer from Polytechnic of Milan, Italy.
I always looked at Japanese design and culture with admiration, so, when I found out that my university had several partners in Japan, I knew that it was an opportunity I was not willing to pass.
I had been to Tokyo three times before I could finally come here to study, and I will always remember how it amazed me the first time I set foot in Japan. It was a completely different world, and I was not used to it, but I was willing to learn how to fit into that beautiful and profound culture.
This is my fourth time here in Tokyo, and it almost feels like home (except for the weather, I still prefer the Italian one!), and Musashino Art University is a truly amazing university.
I found a lot of extra caring and interesting people in the Science of Design department. Moreover, I have had the pleasure of being able to collaborate with some of them for some projects, and being able to work with people from completely different backgrounds was very stimulating.
Classes here are incredibly different from my university. Here I had the opportunity to "get my hands dirty" into art/design related subjects, since I attended Screen Printing (where you are going to work on your own project, with almost no restrictions!) and Synergetic class (where you can explore how physics and nature are intertwined and how you can make it work for design), and I really fell in love with this different approach to design.
Even if I already spent three months here, and there is still one month left, I need to get back home for I have to think about my graduation project, but I know I am going to come back as soon as possible!