Manon Fournie
Ecole Nationale Superieure des Beaux-ArtAccepted: Department of Imaging Arts and ScienceSeptember 2013 to January 2014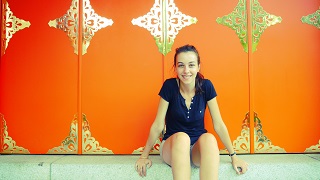 I wanted to study in Department of Imaging Art and Sciences of Musashino Art University to be in a more specialized environment than in Ecole Nationale Superieure des Beaux-Arts which is very general. I found this and also a taste for not "pure" fine arts activities such as animation, or computer programming that enable students to work in companies after graduating. I had already met Professor Christophe Charles in Paris before coming to Japan and I followed his courses here, which opened me to music installations/experimentations. I also went to a very interesting performance class with Professor Seiji Shimoda. Musabi is full of enriching equipment, projects and people. The beautiful library, the image library and the museum provide much learning too. To put it briefly, it is possible to do many interesting things here.
Walter Gotsch
Aalto University School of Arts, Design and ArchitectureAccepted: Department of Scenography, Display and Fashion DesignSeptember 2013 to January 2014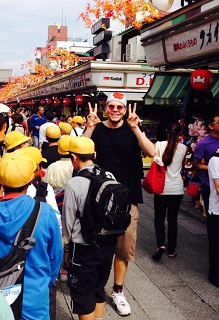 When I first came here, I didn't have any expectations about the university. A couple of my friends in Finland knew the school from interior design. I also knew it since my Japanese skills were quite weak, the options of courses were limited. Luckily, the courses I was in were very interesting and the teachers good. Also because of this, I had more time to do my personal research on Japanese clothing at the folk art museum and go to the library, which is the best I have ever seen.
The teaching methods are quite different than from my own university in Finland. The departments don't allow you to take courses from other departments, and there is more weight on getting inspired and to do research than in the final product. In general it was interesting to see how you are here focused on different facts and operate as a member of a group, rather than an individual.
The city itself it incredible with its noises, smells and visual sceneries. If I get an overload of this, the Kokubunji area where the school is located is perfect. It's not too far from the city center, and the surrounding is quiet and you have good access to the city. You see normal people living and doing their daily business, which is already for me very inspiring to see.
Kim Ji Min
Hong-Ik UniversityAccepted: Department of PaintingSeptember 2013 to January 2014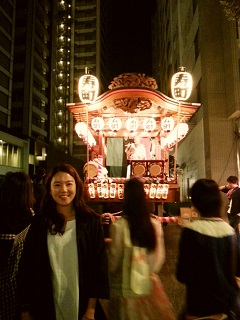 6 months in Tokyo was like a dream. It was the first time that I have lived alone needless to say in a foreign country. I really recommend doing it. I had lots of time to look back at the past and think about myself deeply. It was a good opportunity to set my goal again and way to go. Also, a challenge in a different environment made me stronger and more courageous, and now I can overcome all the difficulties that come my way no matter how hard they are. All the staff in the international center were nice and kind; they always helped when I needed help or I'm in trouble. So there was nothing to be concerned about, and also the professors and students were helpful too.
I totally fell in love with the unique atmosphere that I can only feel in Japan. Especially, Takanodai!! It was like Miyazaki Hayao's animation "The neighbor Totoro" seemed to come out.
I also enjoyed my school life. There was a spacious space to work and every student does their work freely and diligently. I could feel the energy from them. All the conditions were perfect and prepared to enjoy art.
And the library I couldn't say how great it was. Thousands of books and the place encouraged me to study.
I'm so proud that I studied at Musabi. It will be an unforgettable memory.
Dargelos Kersten
Berlin University of the ArtsAccepted: Department of SculptureSeptember 2013 to January 2014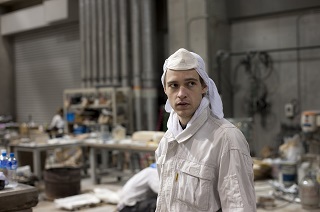 I felt that having the possibility to participate in an exchange program was essential to my studies. Broaden experience by working in different media, learning a new language, living in a different environment. For lack of better words this sounds like a cliche, and not having experienced a time abroad one might not be able to relate to this description, but after two and a half months in Japan and Musabi, I can say it is absolutely worth taking this daring step into an unknown world.
Arriving in Japan I did not feel a culture shock. It was like landing on a different planet in a Science Fiction TV show. So much familiarity, but yet so many differences.
MAU's facilities are outstanding and I found myself overchallenged with the vast new possibilities. But I was encouraged to engage in anything I felt was interesting. The staff and fellow students are very obliging and it seems like for any problem there is a solution ready to be implemented.
Work practice is very different from my school in Berlin, where I work primarily in the studio - a free space more or less at my disposal; in Musabi though one works in the workshops. Also the professors are at the same time head of a workshop.
I very much recommend learning the Japanese language - best already beforehand, as one's experience might not be as multifaceted and maybe even lonesome.
These last two and a half months were an extremely intense and interesting experience - it feels like half a year passed and still I feel I don't have enough time.
I feel very lucky to have been given this opportunity to study at MAU.
Of course this appraisal can't be representative for anyone but maybe myself, but if I could talk to myself a year back - about the time, when I was preparing for my exchange - I would tell myself there is a very great time lying ahead of me.
Valentina Marinig
Politecnico di MilanoAccepted: Department of Industrial, Interior and Craft DesignApril 2013 to July 2013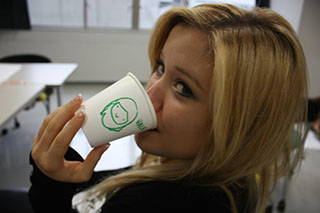 Since I discovered my interest in design, I have always looked at Japanese culture with fascination and curiosity, considering it a great source of inspiration.
When the opportunity to enter in one of the most prestigious universities in Tokyo knocked, this was for me as the realization of a dream come true.
I left with the certainty of knowing Japan and its people, but as soon as I arrived, I realized that everything was different than I had ever imagined. The unique atmosphere of Tokyo fascinated me, the incredible kindness and cordiality of people surprised me, and every single day was an adventure.
The first months in my class were really difficult. My cultural background and methods are completely different from other students' and this made me feel disorientated and confused at the beginning. However my teachers and classmates were so helpful and patient that they really helped me not to give up. Day by day I started to understand more and integrate myself, finding amazing friends who helped me feel at home, and this was one of the most beautiful discoveries: even if you are alone, confused, on the other side of the world, no one there will let you feel alone.
Now three months have passed since I cam to MAU, and my journey is close to the end. I will keep this experience in my memory; it has been one of the best adventures of my life.
Annalinda Ruocco
Politecnico di MilanoAccepted: Department of Design InformaticsApril 2013 to July 2013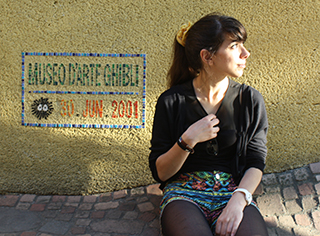 I literally fell in love with Musabi.
The university is a really great place, you can find great inspiration just strolling around the campus: there is always something happening, like performances, exhibitions or parties. It's a varied and colourful place, full of life in every moment of the day.
You can feel an electric atmosphere going around, and every student takes part in it: they express themselves completely, they are not scared to show what they are. And even if not anyone is talking English, they are always kind and friendly with you.
I found really good friends here, and some of them are really crazy in a good way.
Musabi has a lot of facilities, good laboratories and a lot of free spaces to study or just meet friends. There is a beautiful museum as well, and I just don't want to talk about the library because no words can express how much I love that place.
Classes are really interesting and kind of different from the ones I was used to my home university, so it has been an opportunity to mature in a different way of thinking and working.
Useless to say that being here it has been a great experience in all sort of way.
I like to discover new things and places, and Japan is the place I was searching for. Moreover, it is a great place to live: modern and traditional, peaceful and chaotic, slow and fast at the same time. Being here is like a dream that has come true, but better.
Martin Monchicourt
Ecole Nationale Superieure des Beaux-ArtsAccepted: Department of SculptureApril 2013 to July 2013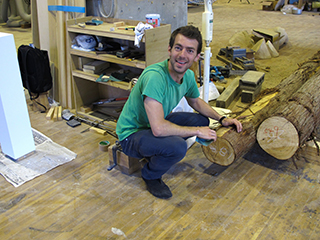 Studying at Musashino Art University is a great opportunity for me. The contrast with the Ecole Nationale Supérieure des Beaux Arts de Paris is really remarkable. The working system is similar but the environment and equipment make the way of approaching a project different. Musabi is very functional.
I arrived in Japan only two months ago and I've been working in several studios. I made studio art work in bronze, wood and mixmedia. Other projects are also in progress. The exhibitions in which I will participate stimulate my production and fully integrate me in student life.
My tutor and some master's students, who speak English, help me a lot in various ways. Education given in the sculpture department is of the highest quality. Despite the potential problems of communication, discussions about my art work are very rewarding.
Living in the Takanodai area is very pleasant. I feel a quiet sense of authentic Japan, whereas doing excursions in the center of Tokyo are more exciting.
I still have more than three months to spend in Japan and I have the feeling that my pleasure will continue to grow as I live this wonderful experience.