Wanda Proft
Berlin University of the ArtsAccepted: Department of Visual Communication DesignSeptember 2011 to July 2012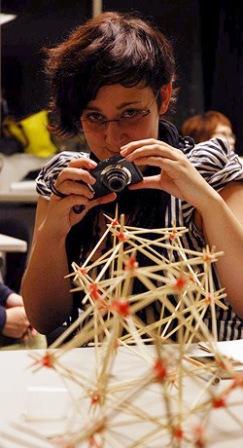 In the beginning of March this year I was preparing for the exchange semester at Musabi when the big Tōhoku earthquake hit Japan. While we all held our breath in concern about the situation in northern Japan and especially Fukushima, I had to stay in Berlin with the feeling of not being allowed to stand side by side with the people from MAU, which already felt like my second university after visiting the campus in the summer before with a warm welcome from the Center for International Relations.
Finally, after I arrived at the end of August, Japan felt more like my home than it ever did before. Right from the beginning everyone took so much care of me. There were teachers like Prof. GOTOH Yoshirō, who not only recommended amazing classes for me, but also offered to teach more about Japanese typography. There were my tutors, who explain, translate and support me with a lot of effort regardless of their English abilities. And there were friends showing up from my classes and MESA (Musabi English Speaking Association), who I didn't have to search for – it seems like they'd always been there!
Studying at Musabi is amazing. I'm enjoying the campus life, where you can sit on sunny green fields or designer chairs, visit weekly student exhibitions and see arts and crafts in the museums, while discovering so many typical Japanese things like cute stickers on unlocked lockers, young Japanese fashion, and how fellow students interact with each other. I'm enjoying my classes, even though I sometimes have to be patient while not understanding anything with my weak Japanese. I've already learned a lot about design and the way of studying here – two of the main reasons I decided to come. I'm enjoying the quiet neighborhood I'm living in next to the university with everything you need in everyday life and the possibility to easily travel to the vibrant megacity, Tōkyō.
Thanks to all the wonderful people like the organizers and teachers from both my universities, my supportive beloved ones from Germany and all the new friends and classmates I've met in this breathtaking country (with all its beautiful but also difficult aspects), I'm living a dream I'll never forget – notably because I'm also learning so much for my life!!
Mia Okura
Aalto University School of Art and DesignAccepted: Department of ArchitectureApril 2011 to July 2011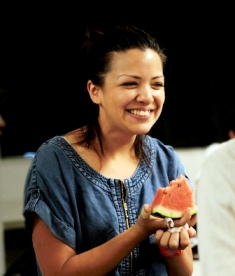 One always tries to imagine how it is going to be and what is it going to be like in the new place or situation that they are going to. Almost every time the end result differs from what was expected and what is actually going to happen as was in my case. Having the experience of being an exchange student in Musabi has really been amazing and same time overwhelming. It has been a true growing process from the beginning till the end. Every day I learned something new from the surrounding environment, the people, the way of living and the place itself. At the same time as I was absorbing new things from the surroundings, I learned my own way of thinking and solving problems. You can not avoid the "lost in translation" moments here and sometimes I found it quite frustrating and hard. Still it was mostly awarding when I found the way to communicate through the language barrier.
Studying in Musabi is great way for taking the first steps of learning Japanese culture. The atmosphere in Musabi is really supportive and people here are helpful and kind.
One can just admire the knowledge and the skills of the professors and instructors here, and the quality of the teaching. I highly value the knowledge that I have gained from the lectures and the given tutorials. They have enriched my visions and given me new aspects for my way of working.
From the students I have learned new ways of studying and processing new projects. My classmates have being really great in helping me where ever they can and making me feel like home. It is silly how vulnerable one can feel when can't do the most simplest thing like printing out the final work from the computer. That is why I am so grateful having my friends in Musabi and for the patience and kindness that they have shown towards me.
In every day life "survival" Center for International Relations has being great help in giving guidance and support. They have made my living in Japan really easy and safe.
My expectations for my time in Musabi differed quite from what it has been. It has been an adventure, a great story that can't be properly put in words and must be experienced for oneself. I am glad for having this opportunity and I want to challenge people to take it too.
I hope that the friendships that I have made here will last for life time and this is just the beginning of the story and not the end.