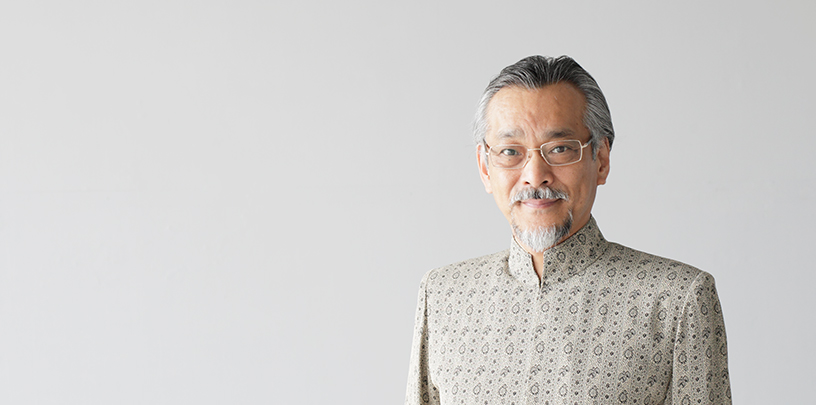 President,
Musashino Art University
Tadanori Nagasawa
Can you stand on that horizon?
What is art? What is design? What am I trying to find out? The process of expression begins in the moment when you ask these questions. When you look at things squarely and give outward shape to your feelings and thoughts as you continue to ponder various questions, creative expression happens naturally. The important thing is to try to understand what you don't understand. Understanding is the starting point of creative expression; and it is in the passion that transcends words and logic that this understanding is nurtured.
If you're at the shoreline, are you able to stand on the far-off horizon? You may say, "The horizon is just a line we see, so of course I can't stand on it." This is the kind of reasoning that we want you to leave behind starting today. There may be no such "thing" as a horizon, but you can be sure about the sand under your feet and you can touch the ocean water with your hand. The "horizon" exists as an extension of these actual things. Even if logic tells you that the horizon isn't there, believe that you'll stand on it one day, and set out for it based on that conviction. I believe this is what it means to be creative.
If you keep thinking inside the box, you can't accomplish anything. Believe in yourself, have courage, and take the first step forward. We at Musashino Art University look forward to seeing where your vision takes you.
Since the founding in 1929 of its predecessor Teikoku Art School, Musashino Art University--one of Japan's leading private art education institutions--has been producing many talented artists, creators, designers and cultural leaders based on the philosophy of "offering art education that enables students to attain true freedom as human beings."
MAU is also a Japanese pioneer in correspondence education, with over 50 years' experience in offering correspondence courses in fine arts. And our alumni association, which is active not only in Japan but also overseas, celebrates its 80th anniversary this year and now has 62,970 members.
Internationalization initiatives have been a tradition of Musashino Art University since its establishment. MAU is the only arts university selected for the Japanese Ministry of Education, Culture, Sports, Science and Technology "Project for Promotion of Global Human Resource Development," which provides funding over the five-year period starting in 2012. In order to be a pioneering model, we are actualizing a variety of new education programs and actively promoting further internationalization.
As President of Musashino Art University starting this year, I am committed to the further enrichment and progress of arts education at our university, which aims to cultivate talented and internationally successful creators on a foundation of respect for Japan's traditional culture; and I am dedicated to the goal of contributing further to a bright future for society, together with this world-class educational institution which "stands on that far horizon."
Tadanori Nagasawa, President
Profile
Tadanori Nagasawa
President, Musashino Art University

1953

Born in Toyama

1978

BA in Science of Design, Musashino Art University

1981

MA in Graphic Information, Royal College of Art, London

1986-

Design office "Tadanori Nagasawa & Associates" established
President, Tadanori Nagasawa & Associates Limited

1993-99

Associate Professor, Tohoku University of Art & Design

1999-

Professor, Musashino Art University

2003-

Holds positions including Director of International Relations, Director of Planning Division, and Deputy President, Musashino Art University

2011-

Councilor, Musashino Art University

2015-

President and Trustee, Musashino Art University
Specialized Field: Design Production, Design Criticism, Design Education, Design Strategy Planning