Morgane Ely
École nationale supérieure des Beaux-Arts Accepted: Department of Painting (printmaking course) April 2019 to July 2019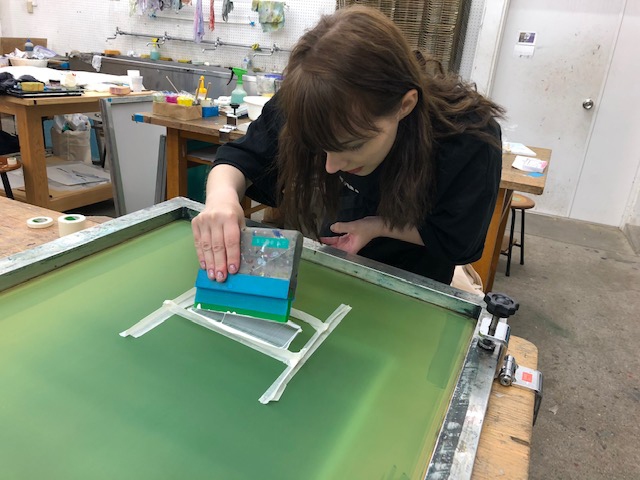 I'm in my fourth year at Beaux-arts de Paris, where I study traditional printing techniques (silkscreen, offset, and lithography). I chose to do my exchange at Musashino Art University in the printmaking course to learn new techniques and become better in the ones that I already know. I also believe that I really needed renewal in my work.
When I arrived at school, I received a very warm welcome; first in the dormitory, then at school and the most importantly in the printmaking course. The students are very friendly, and the teachers are wonderful. I always received the help I needed and much more. I have never felt left out despite the language barrier. My teacher introduced me to students who spoke good English. They have been very supportive during the courses and evaluations. Now they are very good friends. I chose to live in the dormitory during my stay. It is located 15 minutes from school by bike. It is a really pleasant and family place. I felt very comfortable there.
The printmaking course is divided into several three-week workshops (wood, silkscreen and lithography). In the first week, we study the technique, and the other times we are free to practice it. I had a lot of time for my personal work, and I was able to learn a lot about the different techniques. In addition to the courses, several speakers and artists give small workshops to deepen the classes.
Although I studied some of these techniques in my school in Paris, the way of teaching in Japan is so different that it allowed me to complement what I already knew. This also gave me a new perspective on my work. This is what I was looking for when I came to Japan, and I am not disappointed at all.
The school and dormitory are located one hour from Tokyo by train. I could easily visit the city in the spare time, despite the intensity of my work, but I would have liked to live there to soak up this extraordinary place more.
I'm really satisfied with my exchange at Musashino. It has been a significant upheaval in my life. I really recommend it for anyone who wants to have an intense and rewarding experience.
Lena Wild
University of Arts Berlin Accepted: Department of Architecture April 2019 to July 2019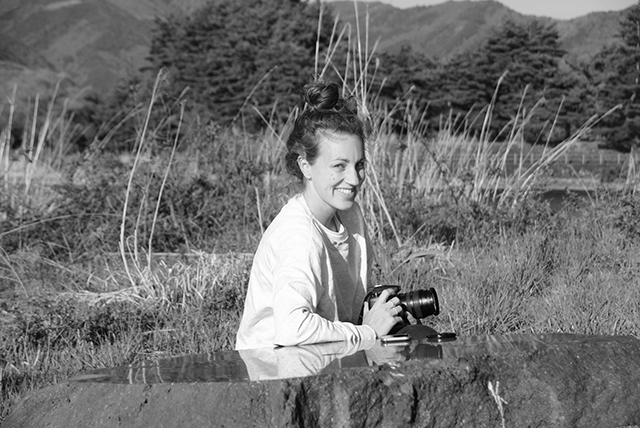 Even after almost three months have passed, I'm still daily impressed by all these beautiful, special and unusual details on every corner in Tokyo. So many things generate this city to a very unique place –the natural places, the architecture, the food, the well organised public train system, the calmness of the people and the pachinko halls on the other side and many more. In my free time, I just cycle or walk through the city center and discover as much as I can, and this seems to be endless. Furthermore, there is stunning nature all over Japan and some of these beautiful spots are not far from Tokyo. You can easily do beautiful day trips from here.
One reason why I wanted to come to Japan was the architecture, but the other one was the culture and the country itself. Therefore, the exchange programme seemed to be the perfect occasion.
The university is different from the UdK in Berlin. One main aspect is that there is only one campus, which makes it much easier to get an insight into the other departments. This was one reason why I got the possibility to take classes from the Department of Science of Design, besides my architectural studio class. The topic of my architectural design was a very poetic one, and we made a lot of field trips to beautiful nature spots. In general, I was lucky to get into classes with English speaking professors, which makes it much easier (as long as you don't speak Japanese well, what I don't do, either.) Everyone was very helpful and understanding from the beginning. Although the language barrier doesn't make communication that easy, all the professors and students are patient and helpful all the time.
The campus areal is an amazing spot—besides a museum, you will find the great library designed by Soh Fujimoto, which is equipped with an incredible collection of books of art, architecture, and design as well as magazines. In good weather conditions, you can see Mount Fuji from one of the buildings there.
When I first came here, the cherry blossom season just started and appeared it even more beautiful. In general, everything is pretty well organised and well prepared for the exchange students, and there is always time and space for further enquiry.
There is the option to stay in the dormitory, which is fully equipped and just 10 minutes by bike from the campus. There are some rules that you have to get used to, but especially for the beginning, it was helpful and convenient to stay there. The area around the dorm and the University is a quiet neighbourhood and a bit far from the city center (around 1 hour), which is one of the reasons why I wanted to move closer to the center at one point. I would anyhow recommend taking as much experience from the city as you can.
Living here for a couple of months is a unique and precious experience for me. The whole life and way of thinking are very different to the ones I'm used to. The longer I'm here, the more I enjoy it. The sensitive and respectful way linked to old traditions and modern technologies is very inspiring and interesting.
Lara Nelke
University of Arts Berlin Accepted: Department of Scenography, Display and Fashion April 2019 to July 2019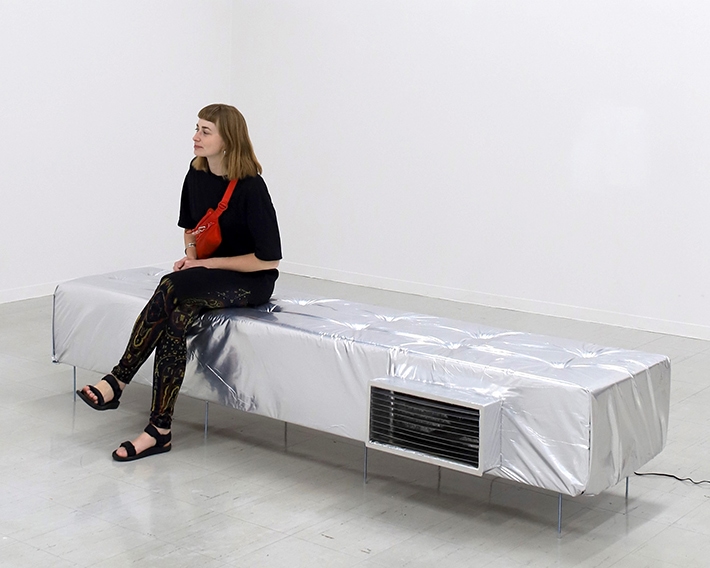 Writing this report, I was thinking about visual images to compare my experience here at Musabi and in Tokyo. In my head there are two: A citizen in a global village and a satellite in a distant galaxy. I was always interchanging in between those two states. Anyway, having the possibility to study at Musabi and live in Japan was the best opportunity ever. The exchange semester at Musabi developed my personal art and design practice enormously. A new cultural viewpoint helps to relocate your own.
I study Visual Communication with a focus on Exhibition and Spatial Design at Universität der Künste Berlin. What I strongly notice in design teaching at Musabi, is that emotion and rationality are not strictly separated but tend to be more open borders. In European thinking, often a strict distinction is made between them.
In the courses of Environmental Design, I learned a new perspective on the design approach. Compared to my homeschool, the way of working here is a lot more about actually creating things rather than discussing a topic. Thinking about material properties, natural phenomena like wind or water and—most importantly—how would people perceive the artwork?
During my studies, I attended an open seminar and different workshop formats, which had a playful approach. I shared the fascination with my fellow students for even the smallest things like a single water drop creating a tender texture on a surface. This way of intense studying and contemplating is a precious value, keeping for my own working process. While creating my artwork, I was given a lot of freedom and trust, which helped me following my intention.
I had very interesting discussions with other students and teachers, even though there is a certain language barrier—with nonverbal communication and even silence, you can almost tell everything. There were a lot of heartwarming moments; everyone is really helpful and kind to me. Lastly, I am very thankful for the tutor system Musabi has established for exchange students. The tutors always translated my intention or thoughts pretty exactly for the and solved a lot of communication struggle.
It was really an eye-opening experience, and I already miss studying here. This is definitely not the last time coming to Tokyo. Now the connection is made, I want to dive deeper into the Japanese art and design scene, collaborate and come back next year and the year after and the year after...
Whether you want it or not, Japan will change your way of perceiving things, even the ones you have always taken for granted. MAU will give you the best opportunity to express your ideas and get in contact with new, friendly and different people—both teachers and students.
Edoardo Guido
Polytechnic University of Milan Accepted: Department of Imaging Arts and Sciences April 2019 to July 2019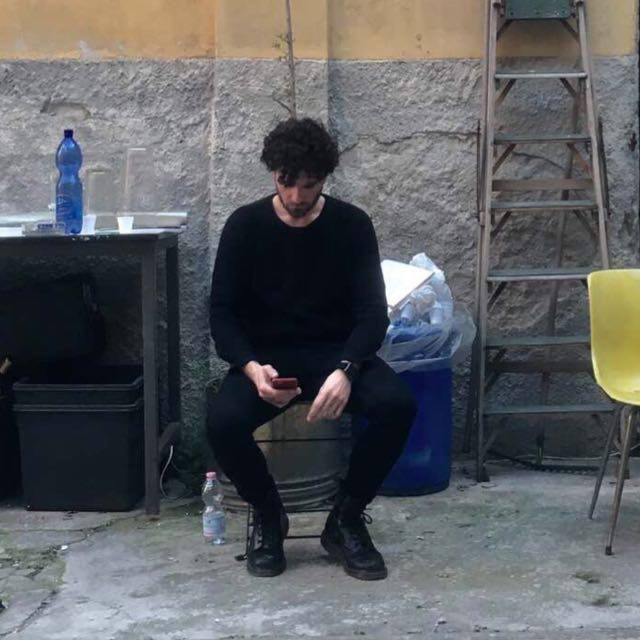 I chose Japan and MAU as a destination for my exchange based on my feelings, not my thoughts. I come from a university focused on designing for users. Therefore I have always been basing my designing process on the rational side of creating new things.
Coming to Japan has brought me in a totally different reality and forced me to rethink and reconsider aspects of life that I took for granted, back in Europe.
Moreover, at MAU I've had the opportunity to radically free my approach from the commercial constraints of design and expand my views, to broaden them and communicate with visual arts (I was placed in the Imaging Arts and Sciences department).
The courses I took here gave me the chance to expressing my thoughts and my ideas in a completely free way, with any means available. This has been difficult and incomprehensible at times, but it only made me capable of thinking without boundaries, of communicating on a deeper level using audio, video and physical interaction than what I have always been used to.
I totally recommend studying Japanese to get to a very basic level before coming here: to live in Japan is hard at times if you don't speak Japanese. This made me feel lonely and isolated at times, but as days passed, I noticed that people here are always there to give help in any way they can, even when they see you cannot speak their language, and this helps a lot.
Despite this initial barrier, living in Tokyo is a great opportunity to find many different realities into a bigger one since every area has its own lifestyle. Also, being able to travel around and explore such a different country is a unique opportunity. Japan is a true 'boule de neige'.
At the same time, to stay alone in some moments has been the best opportunity to grow up on many sides, to explore and discover. To travel alone, to pass an entire day alone wandering around through the streets of Tokyo, or simply to stay at one of the many tables of the beautiful library of MAU: all this teaches you to stay with yourself, to focus, to let your mind run free and to improve your dialogue with your own thoughts, or to get to brand new ones.