Sabrina Brückner
Universität der Künste Berlin Accepted: Department of Sculpture September 2016 to January 2017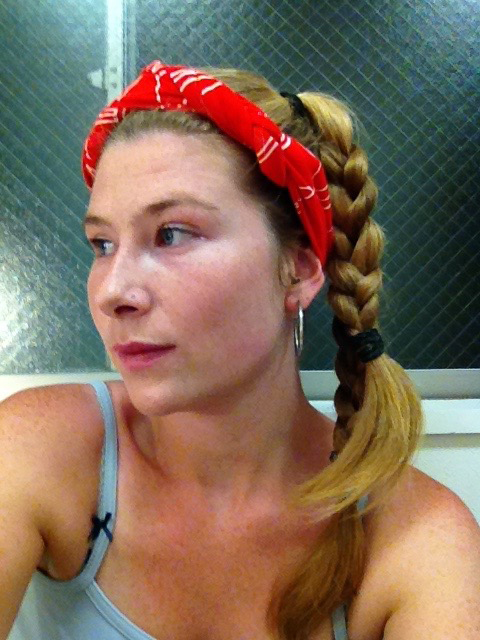 It is now almost one month ago that I arrived in Tokyo, and I can barely believe that I could discover so many different sides of this picturesque town in that short time. I am actually quite happy about the fact that this feeling of the first days -when you find yourself thrown into a completely new context and somehow you feel a bit like Alice in Wonderland- still continues.
Of course I knew that it is going to be totally different to what I expected, but there are still a lot of things which puzzle me from time to time. That is why I am glad to experience Musabi as a quiet space where it is not only possible to get involved in its infrastructure but also to meet people and hang around in the wide and inviting campus. Even though there are few Japanese students speaking English, every single person tries really hard to take care of you.
I am working in the Department of Sculpture, and I am impressed by the different kind of well-endowed workshops, which also represent the esteem of the advanced skills of Japanese handcraft.
Henry Daly
Aalto University School of Art and Design Accepted: Department of Industrial, Interior and Craft Design September 2016 to January 2017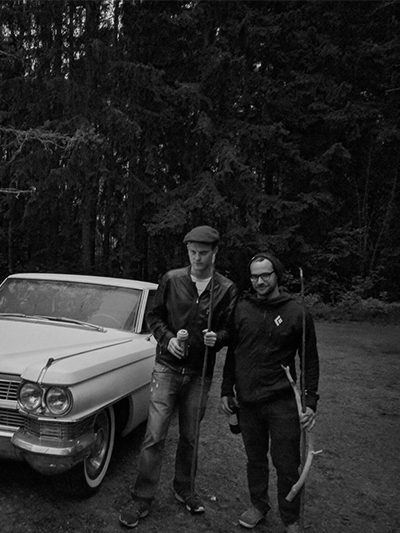 I visited Japan two years ago and really hoped I'd get the chance to come back and experience it from a different perspective to tourism. When I started my masters in Helsinki, I saw that Aalto had quite a few connections with Japanese schools for exchange.
Musabi was my choice because of the Craft Design Department. In particular, I am interested in the different approach to craft in Japan compared to my home country of Ireland or that of Finland.
I am taking classes in furniture design, woodwork and ceramics. It is my first time studying ceramics and although the learning curve is steep I have really enjoyed it so far.
Pauliina Purhonen
Aalto University School of Art and Design Accepted: Department of Industrial, Interior and Craft Design September 2016 to January 2017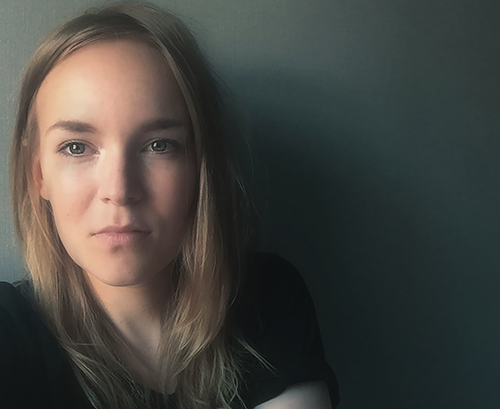 I chose to come to do my exchange in Japan because of the long traditions in ceramics and glass. 
Musabi I chose because of the nice looking architecture and the interesting looking website. I haven't regretted my decision at all.  I don't really speak any Japanese, but with the right attitude you will get along with people who are eager to help you out no matter what.
The campus area of the University is very impressive. The concrete buildings with the trees make a nice contrast. Especially the new building for the Industrial, Interior and Craft Design department has this shrine kind of feeling. Just walking in the area is very inspiring. It is nice to see how people are doing things together in Musabi. Like in the glass course, all the glass students were preparing the hot workshop for the starting semester together for a day right before the semester started. I remember that during the first few days I had already built up a really warm image of the atmosphere of Musabi.
I am staying in the dormitory of the school, which also has the nicest people working there. However, it is a bit shame that you are not allowed to bring your friends to stay over with you.
Christa Carr
Pratt Institute Accepted: Department of Imaging Arts and Science September 2016 to January 2017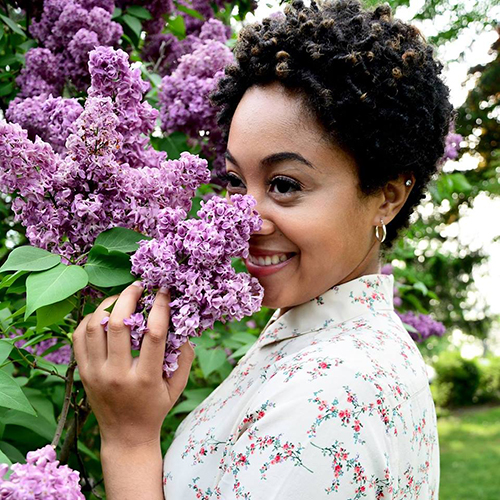 I am an animation student, born and raised in Buffalo, currently studying in Brooklyn, NY. As an undergrad student at Pratt Institute, I'm very grateful for the opportunity to study abroad at MAU! Since I was young, cartoons, comics, and animation have always been my passion. I'm a fan of both western and eastern styles of 2D animation, and I'm looking forward to learning the differences between the two, in terms of the creative process. Some of my biggest influences are Rebecca Sugar, LeSean Thomas, Studio Trigger, Studio Ghibli, and BONES. My other interests include dogs, tap dancing, and gaming. I'm hoping that my experience at MAU will inspire me to think differently about how I create art and encourage self-growth.
Jayne Linn
Pratt Institute Accepted: Department of Imaging Arts and Science September 2016 to January 2017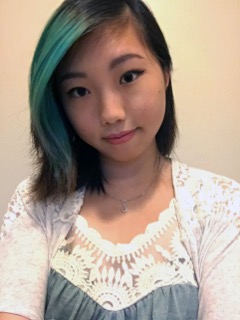 My name is Jayne Linn and I came from Pratt Institute, located in Brooklyn, New York. I am originally from New Jersey, which is next to New York. I am studying Digital Arts 3D Animation, and I came to Japan to study all about it in the new department. I love to draw and go out to have fun during my free time. I especially enjoy being in downtown Tokyo or in large metropolitan areas in general. I am into anime, food, and anything colorful such as rainbows. My dream in the future is to become a director for an animation film and show everyone my stories and dreams.
Tessa Gustin
École Nationale Supérieure des Beaux-Arts de Paris Accepted: Department of Imaging Arts and Science September 2016 to January 2017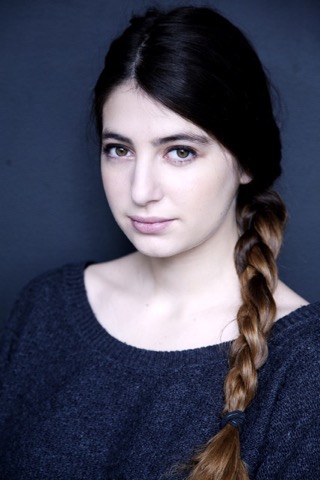 I was in need of a drastic change of air from my Parisian daily life, as I had always lived and worked in Paris. Tokyo seemed to be as far as I could get from my comfort zone, and indeed it is! I chose Musashino Art University because I wanted to be in a school that would open my practice to sciences and technologies, and so far the Imaging Art & Science department has helped me broaden my interests. I've been here a month and already have 3 group exhibitions to come, which I'm so happy to be part of, as it gives me a chance to explore the Tokyo art scene and work with Japanese people. Everyone is so helpful here, and whatever you set your mind to do, Musabi helps you accomplish it!
Apart from the amazing equipment the school offers in matters of video and photography, the campus is such an inspiration as it is huge and beautiful. Away from the center of Tokyo, it gives you a new point of view on what the city has to offer. And the library is probably the most astonishing source of knowledge I've ever seen. 
I had never been to Japan before, and this first experience is so beyond what I could have hoped I'm excited to know I still have 4 more months to discover more of it!
Yoonjung Cho
Hongik University Accepted: Department of Design Informatics September 2016 to January 2017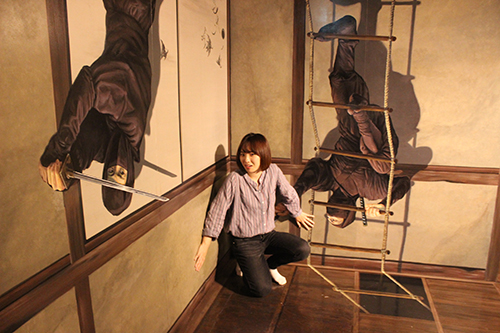 I've been interested in Japanese culture, design and movies for a long time. And also I have been learning Japanese since I was a middle school student.
Since Japan is a neighboring country of Korea, I have really special feelings towards Japanese culture. There are a lot of similarities and different points between Japan and Korea. I`m really happy to have an opportunity to share cultural ideas and design by the exchange student program in MAU.
The life here is really refreshing, and everything is new to me. This is because it is my first time to study abroad, and I am able to have friends who are from a variety of countries. I felt a little nervous at first time, but I`m really enjoining the new style of my life here now.
The classes in MAU are very interactive, so you can share diverse ideas from a lot of students, and the teachers give me valuable and sincere advice. And I can do whatever I think with kind classmates, and I am able to use well organized school facilities here. Actually most of the facilities that I want are supplied for free here. Moreover, the library and museum here are so spectacular and convenient to use. I like reading and searching for design books in the library, and I`m going to use the Image library soon to see movies that I cannot watch easily in my country.
I hope I can finish this experience with such valuable memories!
Clara Saracho de Almeida
École Nationale Supérieure des Beaux-Arts de Paris Accepted: Department of Sculpture April to July 2016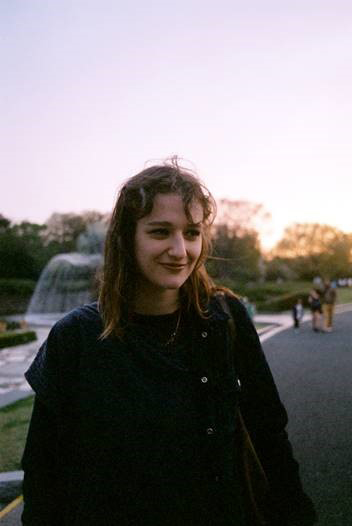 As part of the workshop "The Spirit of Nature" that took place in September 2014 at Beaux-Arts of Paris with Professor Philippe Bennequin, I had the opportunity to travel and discover Japan for a month and spend at Musashino Art University in Tokyo for a week. Thanks to this intense and short journey, I set a goal; return to Japan and spend more time in MAU. I wanted to immerse myself in Japanese culture, which has an incredible sense of modernity and still has deep roots in the traditional way of being and an amazing history. The light, the transparency and the tenacity of some Japanese contemporary buildings fascinates me equally. I feel so blissful to be in this country which differs so much from my own culture.
I'm in the Sculpture department and so far it has been a great experience. Meeting so many teachers that support my projects and also students who help me in all kinds of techniques and machinery has enriched my stay here. At this department I'm fascinated, not only by the buildings of MAU, but especially by the work place. Now I'm learning to melt metals and preparing a bronze piece that, in fact, will be my first one. Even if many people don´t speak English or French, there's always a way to communicate and learn a lot of technical skills.
Despite the school being a bit far from Tokyo center; I'm visiting downtown a lot. Going to parks, museums, visiting buildings, walking around, getting to know street food, restaurants and bars, has been a wondrous experience. When I am in downtown Tokyo, I feel so foreign, so far away, that everything seems so different but also so close to me. I'm delighted to be in this country which is so special and different from my home.
Eevi Rutanen
Aalt University School of Art and Design Accepted: Department of Science of Design April to July 2016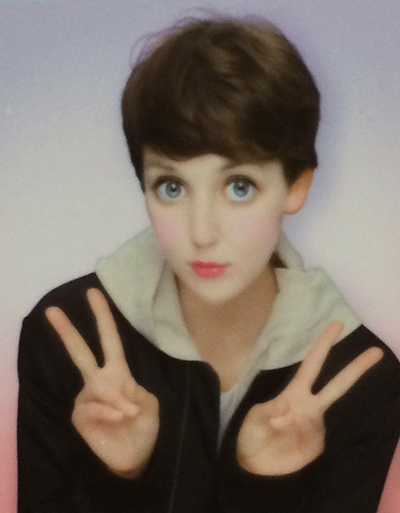 I didn't expect to experience any major culture shocks in Japan, having visited here before as well as several other Asian countries. What surprised me though is how a long exposure to everyday life has a completely different effect on you compared to a mere trip of sightseeing. The obligation to actually live, not only to survive, in foreign surroundings can be a bit tiresome at times; missing on jokes, getting misunderstood in turn, buying vinegar instead of sesame oil from the supermarket, taking the wrong train, getting lost. Luckily everyone has been exceedingly nice and helpful here; My tutor, other students, the staff at the Center for International Relations, the professors and even passers-by are always ready to help me out. (I have also found the text scanner function in Google Translate pretty useful.) After a month I already feel at home here and know my way around. The campus is absolutely gorgeous, not to mention the state-of-the-art library with an amazing collection. Though my classes are interesting, I'm happy that they aren't too time consuming, so I have a lot of time to explore the city and even travel a bit. I have been interested in the Japanese culture since I saw the movie Totoro when I was five, and I am excited by all the new things I learn and see here every day. Even a visit to a hundred yen shop can be an inspiring trip of exploration through the eyes of an outsider. Although I'm not even half way through my stay yet, I am already planning my return to Japan.
Stina Uusitalo
Aalt University School of Art and Design Accepted: Department of Imaging Arts and Scientces Aprill to Jully 2016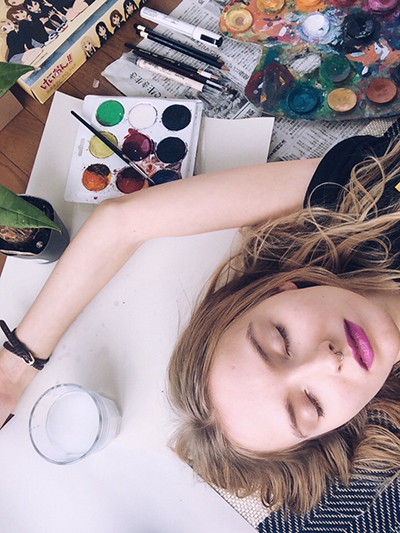 Since I was a kid I've had a strong interest for east asian cultures, especially Japan. Two years ago I visited Japan for the first time and those three weeks turned out to be so good I couldn't leave without crying. That's when I knew I'd have to come back, so I was determinded to apply for exchange studies soon after my trip. MAU happened to be the only university in Japan for my department to apply for, and to be honest I couldn't be happier about it now that I'm here. I get to do things that I usually don't do at my own university; it's refreshing and quite what I was hoping for. I could pretty much customize my own schedule the way I preferred and it's dreamy as I have many interesting classes to attend without being too busy. My teachers are amazing and I can always find some student in the class to help me through the language barrier if needed. I'm also really enjoying the campus and the atmosphere at MAU, I wish I could stay longer... Tokyo has it all and a bit more, and I'm truly thankful to be experiencing a part of it.
Hou Xuanxuan
Polytechnic University of Milan Accepted: Department of Science of Design April to July 2016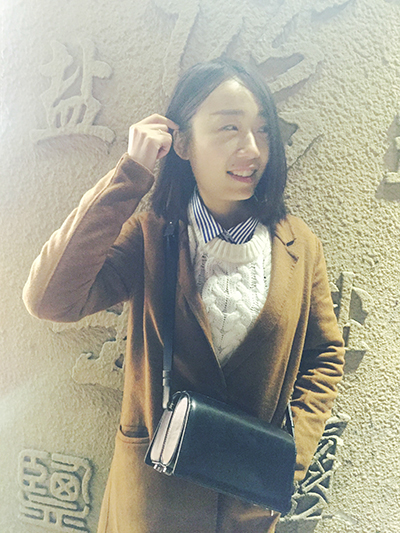 I've been dreaming of coming to Japan for many years. I know it can attracts me for various reasons,the traditional culture, the food, the products…But actually, it's more awesome than I expected.
After arriving, the student tutor helped me a lot for basic living stuff and I got a professor in MAU who helps me with my courses and work. Both the homelike dormitory and the campus of MAU make me feel relaxed and comfortable. I like the library, which is full of books.
Everyone is so nice here even though I can't speak Japanese. I get inspiration here and it is positive for study and to explore the new things here. Musabi is a good place to find space and time to do my own thinking.
Tokyo is a really different from Milan. It's clean and quiet. It's easy to find a variety of gourmet foods which don't cost a lot. I don't need to worry about not having a place to buy food on Sunday or that shops will be closed after 8pm.
Four months' time is too short for me to stay here. I must cherish every minute to be worthy of this precious chance.
Simon Rütjeroth
Universität der Künste Berlin Accepted: Department of Architecture April to July 2016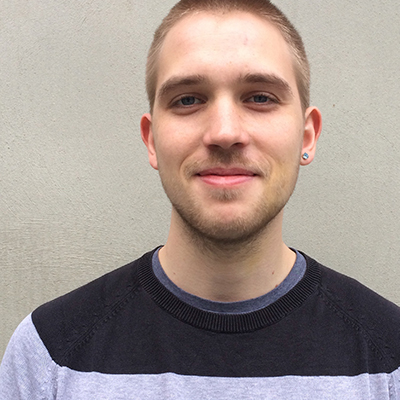 I don't remember the moment when I first heard of Tokyo, and I don't remember when I became fascinated by it. But I think just the name is enough to feel strongly attracted."Tokio", as it is written in German, is simply a very beautiful word. When I found out how the city actually looks like I was sure that this is nothing I could imagine. I have to be there one day.
And so, I chose Musashino Art University in Tokyo as my first and only destination to apply for. This school is extremely refreshing for me as it is, unlike the University of the Arts in Berlin, organized as a campus university. I am also amazed by the unlimited choice of student-run clubs. It can be incredibly comfortable to study here: The relaxing library, the cozy gardens, the calm suburban surroundings plus a very friendly and helpful staff. For example, the staff at the Centre for International Relations made my stay so far very enjoyable. I am studying in the Department of Architecture and my class will rethink and extend its own building. I am really looking forward to work on this since a project is much more revealing when the student can include personal demands. It also pushes me to strongly identify with this place in my unfortunately very short time of only 4 months. As someone who is not speaking Japanese, I like to take part in the university's program to integrate internationalness stronger in its teachings. I visit two lectures held in English, also encouraging students to exchange ideas and opinions, cultures and mentalities.
I think it was way more than just the right decision for me to go here.
Ana Maria Prado
Universität der Künste Berlin Accepted: Department of Science of Design April to July 2016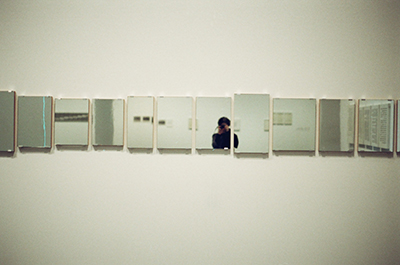 Now that I'm in Tokyo studying at Musabi, I wish I could stay longer than one semester. The first weeks passed by way too quickly. I chose Japan as my exchange country, because I wanted a completely different experience and a change of my daily routine.
After arriving at the dormitory, it was really easy to get used to the daily challenges, because I got so much help from the House Manager and Hinako, our advisor at the dorm. It was a lot of fun to discover the neighborhood by bike, including all the supermarkets, 100Yen-Shops and restaurants, although the area is quite rural and really different from well-known places like Shinjuku or Harajuku.
Before coming to Musabi, I didn't know what to expect, but so far it has been an awesome experience, I got a lot of support from my department to choose my classes. It's easy to approach people despite my poor Japanese and I'm really enjoying the atmosphere at the amazing campus.
The way of working here is completely different from my school, and at the beginning it was hard to get myself into the different ways of teaching, developing ideas, working and criticizing.
I'm taking classes at the Department of Science of Design, focusing on photography and already have had interesting discussions about my work that opened my mind to things that I took for granted.
Sometimes it's hard to understand some of the rules, but it's important to accept and respect them. It makes interaction with locals a lot easier. After a few weeks living here, I'm still amazed by the daily things like small streets, supermarkets and food, izakayas in Kichijoji, purikura photo-booths in Shinjuku, crowded trains, vending machines and traditional temples. All of this and the time I spend at MAU with professors and classmates are a big source of inspiration.
I'm thankful for this opportunity and really looking forward to the next few months at MAU.
Angelia Knyazeva
Köln International School of Design Accepted: Department of Scenography, Display and Fashion Design April to July 2016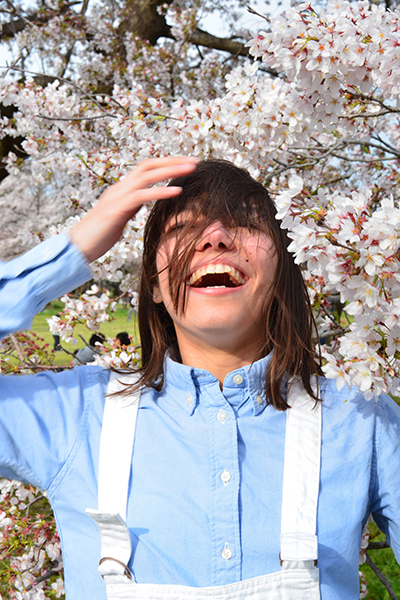 To study at MAU was one of my biggest dreams come true. Having researched about this outstanding university I was looking forward for a slightly different teaching approach that allows greater personal freedom and creative expression. From the very beginning I was supported by the highly professional team from the international office, who were there to answer any questions regarding my preparation for this journey. With their organized assistance I was fearless to cross the globe and start my new living experience on the other side of the world and so far away from home.
Soon after my arrival at MAU, I received the warmest welcome both from my mentor and all the students with whom I started to study. There was always someone willing to help me when I needed it during the classes that I took. The students were so kind, friendly and open to learn more about the country I come from and bring me closer to the Japanese culture as well. Even though I spent time learning Japanese language before coming, I still had difficulties understanding things I heard in my daily life. Lacking particular language skills in a foreign country is a great challenge, but it also opens all your senses, to understand the surrounding environment and the people out there, even without words, which I believe is a very important for any person specialising in the creative fields.
The facilities in the campus that MAU offers are simply great. The astonishing library with an enormous amount of literature and media related to the arts and design, was available to do any research you would like related to your current classes and studies, or simply to nourish your general curiosity. Two museums already on the campus, as well as great conditions given to the students of MAU, who visit other museums in the Tokyo area, makes the whole learning experience even more beneficial. The campus being situated in the largest metropolitan area in the world, was still considerably close and easy to reach within about forty minutes by train from the city centre. Such a location gives another awesome opportunity to explore and get to know more authentic places outside of the typical tourist areas.
Going abroad broadens your horizons and mindset. Such an experience provokes you to learn more about the world and yourself. I am grateful to all the people making this exchange experience happen. I consider it as a big step in my personal growth and the happiest spring of my life so far.